Sparkle isn't a great movie. It's possible that it's not even a very good movie. It is however a highly enjoyable sprawling soap opera with '60s fashion and period detail glamorous musical performances high drama and perhaps most importantly the late Whitney Houston's last performance on film.
As Sparkle American Idol and So You Think You Can Dance alum Jordin Sparks carries the weight of the movie. Sparkle is a little "church mouse" who is too shy to sing the soulful songs she writes. Sister (Carmen Ejogo) who recently returned from New York and has a bad reputation is persuaded to take the lead. Sparkle and the family's third sister Dolores (Tika Sumpter) a pre-med and the sharpest in terms of intelligence and personality sing backup. As their band takes off they acquire a manager the starry-eyed Stix (Derek Luke) and although Sister was initially courted by Stix's cousin Levi he's quickly shoved aside for Satin (Mike Epps).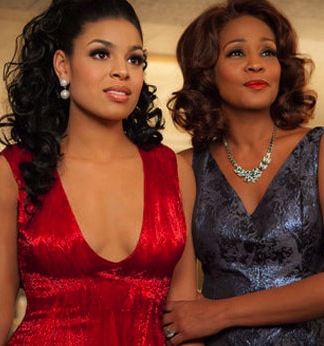 Naturally Sister and Satin are a combustible pair Sparkle is only concerned with the future of their band and Dolores waits to find out if she got into medical school. Meanwhile matriarch Emma (Whitney Houston) has no idea her daughters are sneaking out to perform in clubs in Detroit. In one of the movie's especially silly contrivances she finds out when she sees them on late night TV.
There are plenty of things in Sparkle that don't make sense. There are leaps in logic bizarre plot holes and a clumsy attempt to work civil rights into the mix. Somehow the magnetism of its stars especially Ejogo and Epps as the slickly sinister fiancé Satin helps make Sparkle a little bit more of the sum of its parts. And of course Houston's performance as Mama Bear Emma is worth the price of admission for fans of the diva. It doesn't matter if you're like gospel or not; when she belts out "His Eye Is on the Sparrow" with tears running down her face fans will swoon.
Sparkle was a passion project for Houston who loved the original with Irene Cara and was an executive producer on this remake. Her character is steely and overprotective often at the cost of her daughters' self-esteem. Houston wows in a scene with Epps when they exchange words over a Sunday dinner. Emma doesn't just call Satin out for his disrespect of religion (in front of the reverend no less) but for the way his comedy panders to a white audience. This is one of the more successful moments when the civil rights movement is evoked; although the script makes nods towards Martin Luther King Jr. he's used as a sort of prop to try and convince Sparkle she should have faith in herself.
In the end though Sparkle is a spectacle. It's false eyelashes and winged eyeliner diamonds and drugs smoke-filled clubs and a disapproving mom with her hair in curlers waiting at home with a glint in her eye. It is the kind of movie where choirs pop up from seemingly nowhere and you can achieve your dreams by waiting outside a record exec's office for days on end. It's baffling and mesmerizing. Fans will eat it up.