Go See the New Spike Jonze Movie: 'Jackass Presents: Bad Grandpa'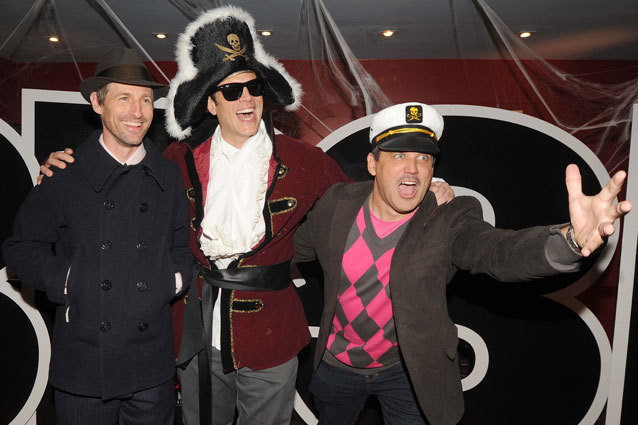 WENN
Yep, you read that headline correctly. Jackass Presents: Bad Grandpa, the latest film from the MTV pranking crew, is coming out later this month and if you're watching the credits closely, you'll see filmmaker Spike Jonze credited as a producer and writer. In a new interview with Vulture, Jonze admits he "wasn't a film kid," and cites films like Fargo from the early 1990s as the first time he'd really seen a modern classic balance the complex tones and themes that he could relate to. And this passion didn't really kick in until after he had already made his first, fantastic film and been nominated for an Oscar. But this isn't a bait-and-switch — indie fans can see the sci-fi romance Her on December 18 (or, if they can score a NY Film Festival ticket, this weekend). That film promises the ethereal, dreamy experience of Where the Wild Things Are with the romantic confusion of Being John Malkovich. And probably a little something from Adaptation. But for the time being, Bad Grandpa it is! 
Jonze has been with the Jackass crew from the beginning, writing and producing the show on MTV while he was still a music video director and skateboarder. Those parts of him haven't gone away, but they've certainly faded when compared to his short but incredibly prolific film career. But when an artist moves between media — most commonly TV to film — we can sometimes make incorrect assumptions about how much they value each one. Jonze still loves to collaborate with Knoxville, Bam Margera, et al, and still helps write their films and occasionally appears in a few stunts (though he's not one to risk extreme bodily harm). A few years ago, he even made a behind-the-scenes mini-documentary about the production of one of their films.
In fact, Jonze has always been torn between the world sof so-called high art and MTV-style pure entertainment. He was married to fellow indie darling Sofia Coppola for four years, and may or may not be immortalized as Giovanni Ribisi in Lost in Translation (though both say he's not, it's kind of a fun theory). Conversely, he also owns part of an alternative media company and a skateboard company, and both are doing well, set to produce the very first "YouTube Awards" soon. And converse to even that, he's a well-dressed perfectionist who manages his film shoots from inches behind the camera. Jonze's love of crude, anarchic pranks is just as far from his personality as the delicate sensibilites of his films. If anything, his devotion to maintaining all these aspects of his career is great news, because it means that we'll be getting a Spike Jonze film only when Spike Jonze has a good idea for one. And if we're hankering for Spike Jonze ideas in the form of TV series, short films, books, plays, and postcards… we'll be seeing those come to light as well.

More:
Beastie Boys' 'Sabatoge' Still Watchable 20 Years Later
Lady Gaga and Eminem to Headline First Youtube Awards
MTV Renews 'The Challenge' for a 25th Season
---
From Our Partners:


A Complete History Of Twerking (1993-2013) (Vh1)


15 Stars Share Secrets of their Sex Lives (Celebuzz)