Spike Lee Goes Internet Troll on Quentin Tarantino and 'Django Unchained'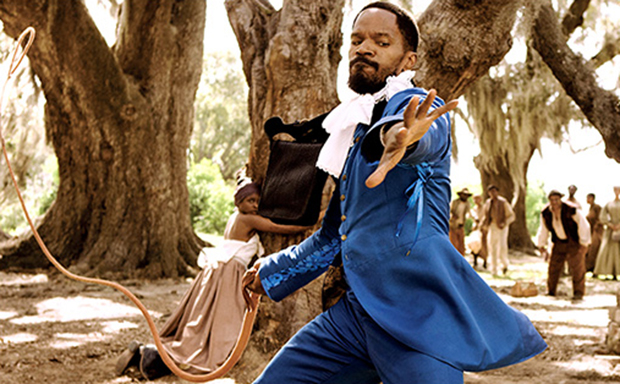 Spike Lee is aware he doesn't speak for everyone when he speaks out against filmmakers with differing agendas, but that isn't keeping him mum.
On Saturday, the Red Hook Summer and Inside Man director took heat for comments made against Quentin Tarantino's upcoming Western Django Unchained. The film follows a slave, Django (played by Jamie Foxx), who is freed by a German bounty hunter (Christoph Waltz) and employed to hunt down villainous slave owners. He eventually turns his sights to his rescuing his wife, Broomhilda (Kerry Washington), owned by the wickedest plantation-owner in the South (Leonardo DiCaprio).
Lee isn't having any of it.
"I can't speak on it 'cause I'm not gonna see it," the director tells VIBETV. "All I'm going to say is that it's disrespectful to my ancestors. That's just me…I'm not speaking on behalf of anybody else."
This isn't the first time that Lee has lashed out against the creative endeavors of another filmmaker. Lee is famous for continuously bashing Tyler Perry's oeuvre, deeming the mogul's films as intellectually void, and slamming Clint Eastwood back in 2008 for his work on two World War II films (Flags of Our Fathers and Letters to Iwo Jima) that failed to feature any black soldiers. Now, Lee is taking Tarantino to task for his use of slaves in an exploitation film, an issue he clarified over Twitter:
American Slavery Was Not A Sergio Leone Spaghetti Western.It Was A Holocaust.My Ancestors Are Slaves.Stolen From Africa.I Will Honor Them.
— Spike Lee (@SpikeLee) December 22, 2012
Lee has always been an outspoken advocate for black culture and the truthful depiction of African-Americans in film, but even his Twitter followers couldn't help but jump into the ring with the famous director and question his remarks. Lee admits to not having seen the film, which uses slavery as a catalyst for Tarantino's signature bloodbath artistry. But it also depicts the treatment of slaves as a harrowing and grisly aspect of America's past — audiences may cheer when Django takes revenge on those who have crossed him, but only because of the degree to which these villainous characters have inflicted physical and mental damage to black men and women.
Wearing his personal (and reasonable) stance on his shoulder, Lee joins the ever-growing Internet buzz culture. Seeing the movie is often considered a non-factor — like Django, the upcoming Zero Dark Thirty, which opens wide on Jan. 11, is under a similar microscope by the politically-minded for its portrayal of torture. Lee and everyone floating around Twitter has a right to voice their opinion. But wouldn't it be more interesting to hear his thoughts after watching Django Unchained?
[Photo Credit: The Weinstein Company]
Follow Matt Patches on Twitter @misterpatches
More:
Tarantino Revive-O-Meter: 9 Actors (And 1 Composer) Who Got a QT Career Assist
Will Hollywood Limit Violence in TV and Movies Following Tragedy?
New 'Django Unchained' Posters are Like Trading Cards — POSTERSYou Might Also Like:

20 Hottest Bikini Bodies of 2012: Kim Kardashian and More!