Start Your Engines: Lionsgate Developing Film About 'The First Lady' of NASCAR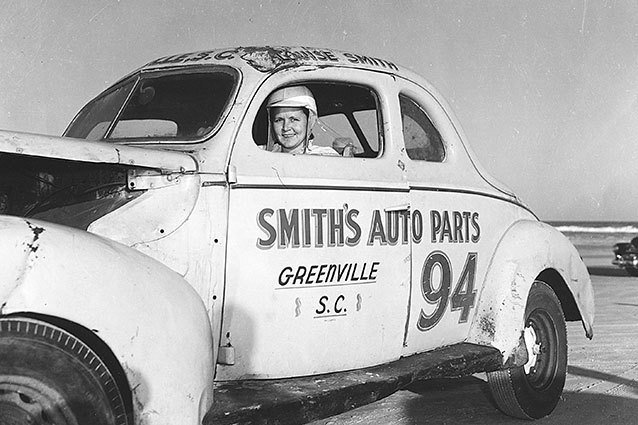 ISC Archives/Getty
Danica Patrick has certainly made her mark on NASCAR history. But long before she became a figure to idolize for ferociously speeding down the track, Louise Smith revved her engine and paved the way for future female racers. In an attempt to highlight Smith's successes, Lionsgate has teamed up with Odd Lot Entertainment and acquired Spitfire, the fact-based story of Smith and her tenure as one of the top female racers in the 1950s, according to Deadline.

The film, which is being penned by Grant Thompson (2014's McFarland), will follow "the first lady of racing" — a figure who is known for racing at the Daytona Beach road course, being the first woman inducted into the International Motorsports Hall of Fame, and securing the initial funding for the institution that would become NASCAR. (Basically, every person who loves NASCAR should be bowing down to the groundbreaking Smith.)
Given that the last big-name film that NASCAR lent its name to was Talladega Nights: The Ballad Of Ricky Bobby, this female-driven film (no pun intended*) seems to be quite a different speed than the Will Ferrell flick. As of yet, it's hard to tell what kind of audience the film is going to bring in, but if it's anything like A League of Their Own, then it's sure to be a crowd-pleaser that sends feminism-induced chills rolling up all of our spines. Because as everyone knows, there's nothing better than an underdog rising to the top and knocking a few smirks off of doubtful faces.
Nicky Weinstock of Invention Films is producing, and NASCAR is executive producing.  
*That pun was totally intended.