Geeks and Jocks Unite: The Power of Sports Movies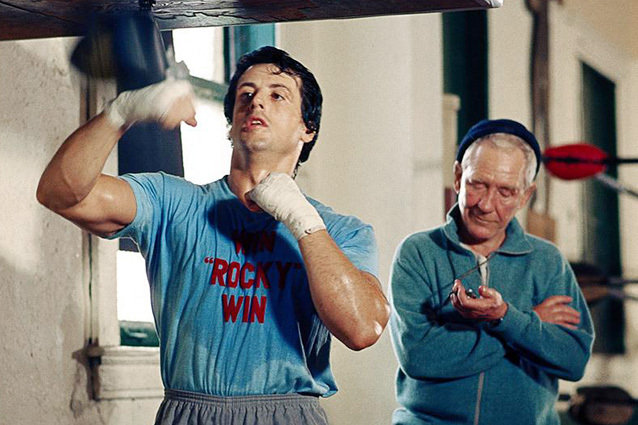 In the typical high school experience, a rift exists between the athletically inclined and those with interests classified as more geeky in nature. This rift is severe. One could draw comparisons to the Star Wars/Star Trek feud, but by doing so one would only be revealing on which side of the high school rift they resided. As the temporal distance from graduation grows, these former absolute definitions of who we are, who we were, dissolve… but there still exists a perceived gap between sports fans and cinephiles. Why?
Over the years, a number of stellar sports stories, both totally imagined and based on real life, have found their way to the big screen. The popularity of these titles is not simply a matter of sports fans comprising the sole consumer base. Some widely acclaimed films center on some sport or athletic competition. Rocky, about a boxer, and Chariots of Fire, about track runners, are both Best Picture winners in their respective Oscar years. Not to mention the fact that last year's Academy Award winner for Best Documentary Feature was the football doc Undefeated.
Sports documentaries are especially powerful, as they have the hindsight to vet the best stories and present them as they actually occurred. But is this just the result of effective editing? Are these stories the exception and not the rule when it comes to being a spectator of sports? What is so puzzling is why film fans would ever develop an aversion to observing live sporting events. Take the Super Bowl, for example. If you follow a large contingent of film critics, cinephiles, and film pundits on Twitter, your feed during the Super Bowl, is either going to be dead silent or full of snarky lamenting about the increased sports chatter. Can they not see the inherently cinematic aspects of live sports?
What makes a great film? More than that, what are the basic building blocks of cinema in general? We need colorful characters, conflict, elevated stakes, and plenty of twists and turns within the narrative. We love stories about characters that triumph over seemingly insurmountable odds, and we have to have a worthy antagonist to root against. All of these elements are at the core of almost any given sporting event. We have characters (players) who can be colorful both in terms of their personalities and, more literally, in their uniforms. They strive against one other, one team almost always favored, aiming to obtain the ultimate glory. Personal affiliations will dictate how audiences designate the heroes from the foes.
More than anything, however, sports are the essence of drama. Would you watch a movie with a telegraphed ending? Even if you stumbled across a film with a contrived finale, would you hold it in high esteem? With sports, the outcome is never certain. These games, these matches and bouts, they are determined by the degree of fighting spirit contained within the eventual victors. These unscripted events provide a natural progression of highs and lows, of agonizing defeats and stirring victories.
Sometimes, just listing the specific details of certain sporting events reads like a calculated Hollywood pitch. Let's examine, for example, the 2004 World Series. The Boston Red Sox hadn't captured a World Series title in 86 years, dubbed The Curse of the Bambino. Prior to getting to that series in 2004, they had to face their bitter rivals, The New York Yankees, in the American League Championship. In a best-of-seven series, the Red Sox were down three games to none to the Yankees, a deficit that no team had previously overcome. But through sheer determination, and a number of gigantic plays at the most direly needed moments, the Red Sox won four straight to defeat the Yankees and bring a title back to Bean Town. Their pitcher Curt Schilling played with a bloody, injured ankle that literally turned his white sock red. Who wouldn't see a movie based on that tale? You can bet that sometime in the next 20 years, there will be a big screen version.
Then there's the story of NFL quarterback brothers Peyton and Eli Manning, and how each triumphed over the formidable, and sometimes objectively villainous New England Patriots in respective years.
But how about a more recent subject? The University of Louisville Cardinals just won the NCAA Men's Basketball Championship. If ever there were a fascinating figure who would easily translate to an interesting film character, it's Louisville basketball coach Rick Pitino. Sure, he's now won two titles with two different college teams, with a record-breaking lapse in time between them. But both his professional and personal lives make him an ideal subject for an intensely human drama. He lost a six-month-old son to heart failure, he had a brother-in-law who perished in the attacks on 9/11, and he was extorted by a woman with whom he'd had an affair. Though he suffered several setbacks in his attempts to coach in the NBA, he managed to lead the New York Knicks from one of the worst teams in the league to a championship in just two years.
There is no end to the plethora of film-worthy sports stories out there, and that is a direct result of the natural connection between athletic competition and the elements of pure cinema. Not only is there no reason to divide film fans and sports enthusiasts, but doing so severely disrupts what should be an added appreciation for both groups of their once segregated passions.
More:
Rick Pitino Is Having the Best Week in Human History
Four NFL Players May Come Out as Gay
10 Things to Know About Matt Damon's 'Elysium'
---
From Our Partners:


40 Most Revealing See-Through Red Carpet Looks (Vh1)


33 Child Stars: Where Are They Now? (Celebuzz)