'Spring Breakers' is Hot at Box Office as it Parlays SXSW success!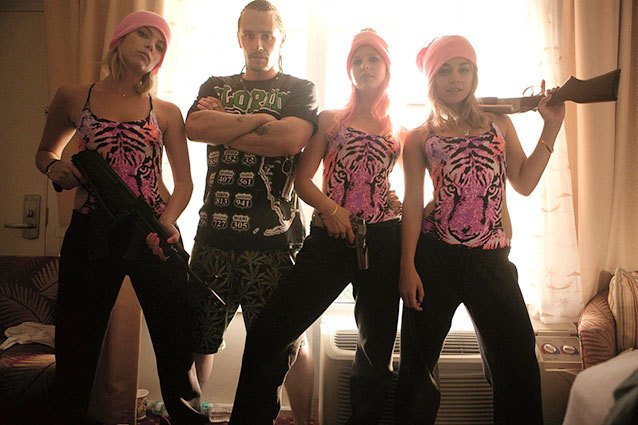 The hot ticket at SXSW last week was the bikinis and guns comedy/drama Spring Breakers. The seemingly irresistible combination of Selena Gomez, Vanessa Hudgens, Ashley Benson and Rachel Korine in bikinis along with a gun-toting James Franco also became the hot ticket this past weekend as the film debuted with a huge $263,002 in just three theaters. This translated to a $87,667 per theater average, which means that the theaters were pretty much packed with moviegoers looking to see what all the fuss is about. Of course, featuring four girls in bikinis, Oz star Franco and lots of guns and gunplay in the trailer and the one-sheets didn't hurt the chances for the film either. 
RELATED: SXSW 2013: The Best (and Worst) of the Fest
Sex clearly sells, but the question is can it play to a wider audience when it expands into nationwide release this Friday. Director Harmony Korine (Kids, Gummo) is a polarizing force as some hail the director a visionary, while others simply don't get his "in your face' style and this is reflected in the decidedly mixed reviews for Spring Breakers. However, this didn't seem to slow down the momentum that was created at SXSW for the film and the results in its 3 theater debut, were solid.
Other films have mined this territory before with Oliver Stone's Savages coming to mind.  That film had a wide 4th place debut of $16 million in North America and went on to earn $47.3M in N. America and $31.5M internationally for a less than staggering $78.85M.  Despite Blake Lively's sexy turn in the film, the gunplay and the undisputed "cool" factor, the movie was not a runaway success. R-rated crime dramas that amp up the sex and violence quotient in an effort to draw out the hip crowd do not always work on a national level. 
It's difficult to find a comparable example in the limited release world, because an action film starring James Franco (and a cast of generally well-known young actresses) would not ordinarily debut in 3 theaters. But Spring Breakers is this strange hybrid you get when you mix an indie director with majors stars and a mainstream genre. The buzz generated by this strong limited opening may turn out to be the best thing that happened to the film: had it been pushed out into 2,000 plus theaters this weekend, it may have been the latest box office casualty and now it will debut in wide release with an extra boost of positive publicity.
R-rated action movies in general have not worked this year either with many casualties at the box office already in 2013. However, Spring Breakers boasts a young and hot (mostly female) cast that may transcend the genre;  drawing men for obvious reasons, but also female moviegoers who have driven the box office success of the very few hits we have actually had this year. We will find out this weekend when the film hits a theater near you.
[Photo Credit: A24]