What Spring Break Really Looks Like Where 'Spring Breakers' Was Shot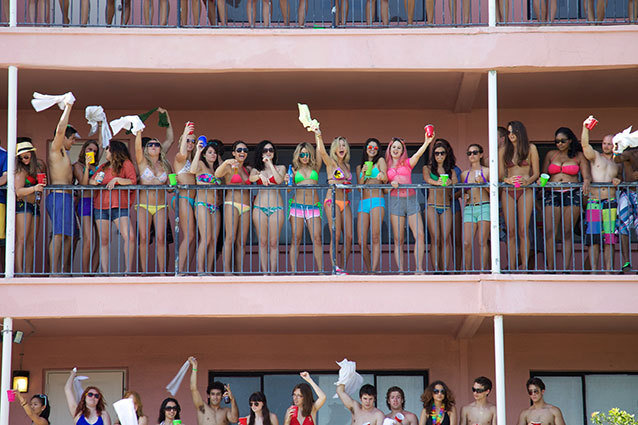 "You're in St. Pete now. We do it gangsta. Gangsta!" – Alien
Watching Spring Breakers, shot mostly in my hometown of St. Petersburg, FL and its adjoining community of St. Pete Beach, was a transcendental experience for this native of the Tampa Bay area. Not because it accurately depicted all the surface details of life in our glistening jewel of a Gulf Coast burg — it didn't — but because it captured so beautifully the feeling of living there. Where others see debauchery and soullessness while watching Spring Breakers, I see home.
I grew up in paradise. I started where most people want to end up in life. Unlike the East Coast of Florida, which has a frenetic, metropolitan quality — like New York City having decamped to sunnier shores — the Gulf Coast is pretty quiet. And everyone in the Tampa Bay Area, and St. Petersburg in particular, seem to be on a more relaxed wavelength. As a kid, I'd actually do my homework while laying on the beach. Many of the classes at my school were held out of doors. As a now-pasty writer living in New York you'd never know it to look at me, but I've probably spent more days on the beach than just about anyone my age. (Bring it on, skin cancer!) I take great pride in my roots even if, unlike James Franco's Alien, I don't have St. Pete's area code, 727, tattooed across my chest. That said, after having lived in the Big Apple for five years I do still have a cellphone with a 727 area code. I never intend to change it.
'Spring Breakers' Is a Metaphor for the Corruption and Breakdown of Britney Spears
So it might strike you as funny that I say I liked Spring Breakers so much, since on the surface, with its depiction of out-of-state coeds participating in a Caligula-caliber St. Pete Beach spring break scene, then going on a murderous crime spree, it may seem like my hometown has been painted in a negative light. I disagree with that assessment. I think director Harmony Korine is using St. Pete the way Joseph Conrad used the Congo in Heart of Darkness, the way Michael Powell & Emeric Pressburger used the Himalayas in Black Narcissus: as a place of such magic and overwhelming beauty that it can drive the weaker-willed to madness and mayhem. Do most people who visit St. Pete lose their minds the way Vanessa Hudgens, Ashley Benson, Rachel Korine, and Selena Gomez do? Well, not to that degree, no. But I do have a friend who was so overcome by St. Pete that she vowed to leave her husband and move there on the spot. My own dad fell so hard for the area that he decided to risk being shunned by his parents to attend Eckerd College, a St. Pete institution of higher education that at the time was only 18 years old, over the family alma mater, Yale. (It turns out he did burn his bridges with his family for that choice, but I don't think he regretted it.)
A 'Spring Breakers' Glossary: What the Heck is an ATL Twin?
All of which is to say that I think St. Pete's transformative power is similar to what was conveyed in Spring Breakers, even if its charms are, in reality, far more subtle. It's a vacation destination, yes, and we rely heavily on tourist dollars, but we residents of St. Pete also enjoy how untouched and pristine our community still is in many ways. When I told one local friend that Spring Breakers was shot there, his response was "Wait…since when has St. Pete had a spring break scene?" Fort Lauderdale, St. Pete ain't. And we like it that way. So let me take you on a tour of my St. Petersburg, by way of some of the locations you see in Spring Breakers.
The Sunshine Skyway Bridge
The Tampa Bay area's most iconic landmark, the golden-spired Sunshine Skyway bridge serves as our spring breakers' gateway to paradise (or hell) in the movie. Never mind that it's located at the southern tip of St. Pete and would never be the way four northern girls from out of state would arrive. Its glistening presence is so dramatic it needed to be in the movie. Yet even the Sunshine Skyway is tinged with darkness. It's the site of the Tampa Bay area's 9/11.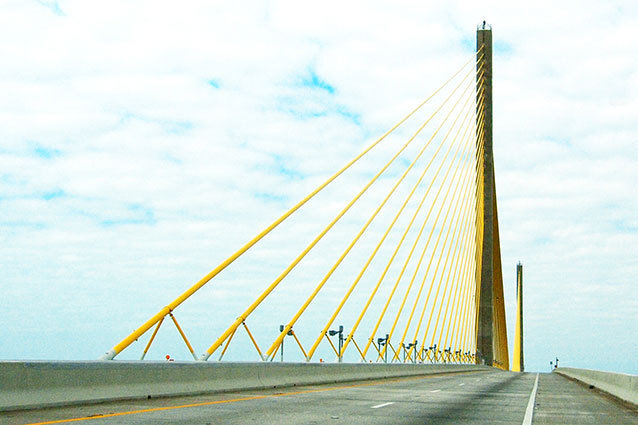 On May 9, 1980 a freighter called the Summit Venture approached the span of the bridge that used to streak across Tampa Bay on the site of the current Sunshine Skyway. Because of a storm, the Venture was thrown off course and collided into one of the bridge's support columns. A 1,200 foot section of the bridge collapsed into Tampa Bay. Six cars, a truck, and a Greyhound bus fell 150 feet into the water. 35 people were killed. Part of the old bridge was converted into a fishing pier in the years after. The rest was demolished and replaced with the current Sunshine Skyway, a structure built to withstand such collisions. It was the kind of incident that put into perspective the way we live in the Tampa Bay area. Tourists flock to our shores to escape from the toil and pressures of "real life." But that doesn't mean the people who actually live there don't have problems and tragedies of their own to contend with, problems and tragedies that no number of walks on the beach or picturesque sunsets can ameliorate.
The Coral Reef Resort
When Sergio Leone came to St. Pete Beach to film a scene for Once Upon a Time in America, he chose our most famous hotel: a pink, Mediterranean-style castle called the Don Cesar. So did Robert Altman when shooting his debacle of a film Health. But Harmony Korine wisely knew not to film there. He chose a far cheaper dive, the Coral Reef Resort, as the site of the spring breakers' poolside orgy. It has a carefully landscaped, free-form pool with bridges and waterfalls, but, other than that, the Coral Reef Resort, like so much of St. Pete Beach, looks straight out of an Elvis movie from the early '60s. It's definitely the kind of place spring breakers would flock to, if we actually did have a spring break culture. Mostly, it looks like this: pretty empty. Only in a movie would this place be glutted with hundreds of college-age kids.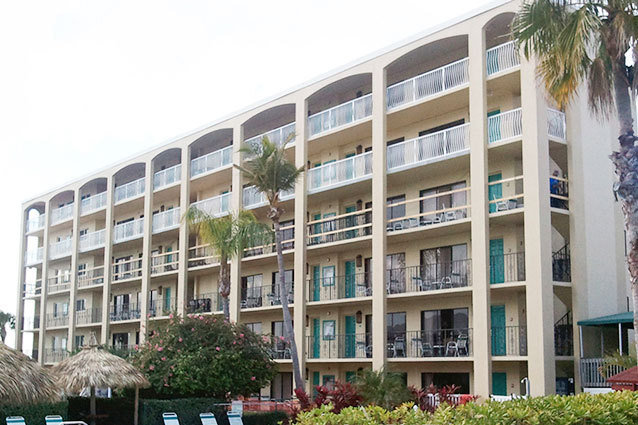 By the way, topless sunbathing is most definitely not allowed on St. Pete Beach. The police patrol the sands pretty vigilantly, and the one and only woman I can actually remember seeing sunbathing topless was ordered to cover up almost asap. All those coeds in Spring Breakers seemingly auditioning to be on Girls Gone Wild would be hit with stiff citations for public indecency. If you're actually within the grounds of a private resort, like the Coral Reef, you maybe could get away with it, but only if it's sanctioned by the hotel management. And even then, the topless bather in question would have to be very careful to stay out of outside view.
Vanessa Hudgens' 'Spring Breakers'-Inspired Song '$$$ex' is a Hot Mess
That doesn't mean we don't have plenty of half-naked flesh on view everywhere you turn, though. Per Alien's mantra, bikinis really do seem to be the uniform of most women who visit St. Pete Beach. As a kid growing up in that environment, you never knew anything different, making you adopt from an early age a rather European view of women being scantily clad.
NEXT: Forget topless sunbathing. Here's the thing you can't do on St. Pete Beach that's really going to shock you.



Now this one's really going to shock you: alcohol isn't allowed on the beach. I know! It's crazy. Of course, that's one law that's very frequently broken, as intrepid beachcombers smuggle in all kinds of sweet brew via their coolers. But if you were caught chugging the way those kids at the Coral Reef Resort were chugging in the movie, you'd be in the slammer faster than you could say "Volstead Act."

Historic Corey Avenue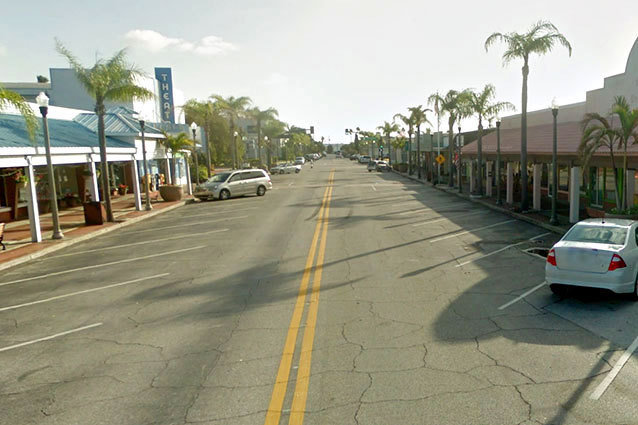 This is the historic heart of St. Pete Beach, a row of five-and-ten cent shops, galleries featuring local art, and a couple sidewalk cafes. It's the quaint strip where Selena, Vanessa, Ashley, and Rachel ride mopeds. (Seriously, this isn't Bermuda. Nobody rides mopeds there.) The real prize of Corey Avenue, however, is the Beach Theatre (upper left in the photo), an old movie house that's been in operation since 1941, that you can glimpse as the gals are taking their joyride. To everyone's horror, including this St. Pete émigré in New York, the Beach Theatre went out of business for the first time ever in November, after showing (the, with hindsight, ironically titled) End of Watch as its last picture show. Its owner, Michael France, a Hollywood screenwriter who wrote or co-wrote GoldenEye, Cliffhanger, The Hulk, and Fantastic Four, has been locked in a heated divorce battle, with the beloved theater a property under contention.

The Twistee Treat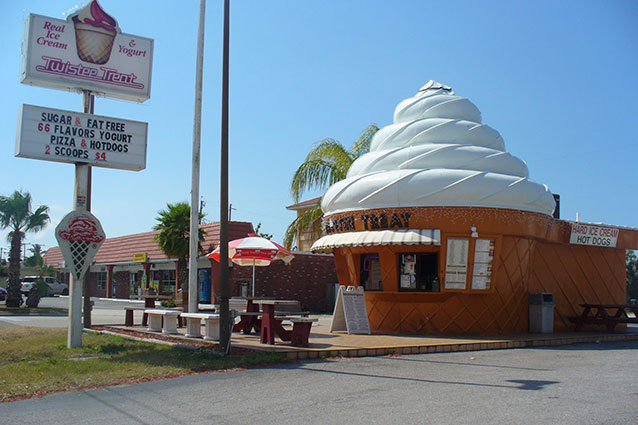 One of the most unsettling scenes in Spring Breakers is when the four gals sit outside a convenience store—St. Pete Beach's Sunshine Discount Food and Gift Corner, in the lower left background of the photo above—and hold a group singalong of Britney Spears' "Baby One More Time." It's in the parking lot of this convenience store that Hudgens, Benson, and Korine's character reenact for Gomez the robbery they committed to fund their trip. In the background, right next to the parking lot in which they're loitering, you see one of St. Pete Beach's greatest icons: The Twistee Treat. It's a one-room shack shaped to look like an ice cream cone that—guess what!—sells ice cream. This is the place where young people, the few spring breakers we get especially, congregate to cool off. Many a summer night I've clutched a cone at the Twistee Treat, though, sadly, no one has ever serenaded me with "Baby One More Time."

Also, consider how Spring Breakers shows us the Twistee Treat, then just a few minutes later introduces us to Gucci Mane's gangster…who has an ice cream cone tattooed to his face! Only then does it become clear what a complex image system Spring Breakers really possesses.

The Dark Side of Paradise

But, really, how does my nostalgia for St. Pete compute with the incredible darkness that comes across in the film? Because there is indeed a dark side to paradise. I've seen it for myself. There is a strong drug culture throughout the Tampa Bay area that sometimes can erupt into violence. I myself once lost someone very close to me to drug addiction and, eventually, suicide.

Beyond that, though, if you actually live in the Tampa Bay area, you're forced to confront the fundamental paradox of living in paradise: you may be surrounded by incredible beauty, enjoy a much more laid-back rhythm to life, and have every material comfort provided for you. But once all the basic necessities — and the additional pleasures that so many strive their whole lifetimes to achieve — have been satisfied, you're confronted with the reality that you and your loved ones are still going to die someday, that this beauty cannot last. That's the basic existential paradox of living in paradise: you have everything, but it always reminds you that you will lose it all in the end. Throw in the very real traumas of foreclosure and unemployment that have beset the Tampa Bay area, and you've got a recipe for unhappiness. I'd venture to say that may be a reason why Men's Health magazine declared St. Petersburg "the most depressed city in America" last year. Chalk it up to a variation on James Taylor's "sunny days that I thought would never end" scenario. Unfortunately, some people turn to drugs in their despair, others get involved in crime, but mostly the depressed of the Tampa Bay area turn to the kind of conspicuous materialism you see in Franco's Alien. Most of my classmates at my prep school in St. Pete were like slightly more upscale versions of Alien, obsessed with their possessions and driven be a nouveau riche mindset to flaunt all they had. One kid totaled five Porsches during my high-school years. His daddy bought him a new one after every single reckless crash.

Was that 'Spring Breakers' Three-Way Hot or Horrifying?

But as much as recognize the real-world roots of the darkness you see in Spring Breakers, I choose not to focus on that. I have too many incredible memories. Like the time when I was three years old and my mom and I met Farrah Fawcett and Ryan O'Neal on the beach — they were staying in the posh Don Cesar, of course. Their son Redmond, a year older than myself, gave me my first-ever piece of bubblegum. With hindsight, given Redmond's highly-publicized struggle with drugs, I suppose he was "dealing" even then. But my favorite memories are the simple things: taking in the sunset, watching a poolside movie, listening to the cicadas that add their hum to the night air. It's possible that I had it so good as a kid that I could find myself a candidate for the Woody Allen Syndrome: "I had a wonderful childhood…and a miserable adulthood." But I wouldn't trade those years for anything. Spring break forever, indeed.

Follow Christian Blauvelt on Twitter @Ctblauvelt

[Photo Credits: A24 Films; CoralReefFlorida.com; Google Maps; John Picken/flickr; Facebook]
---
You Might Also Like:


15 Oscar-Winning Nude Scenes


10 Insane 'Star Wars' Moments You Didn't Notice