A 'Spring Breakers' Glossary: What the Heck Is an ATL Twin?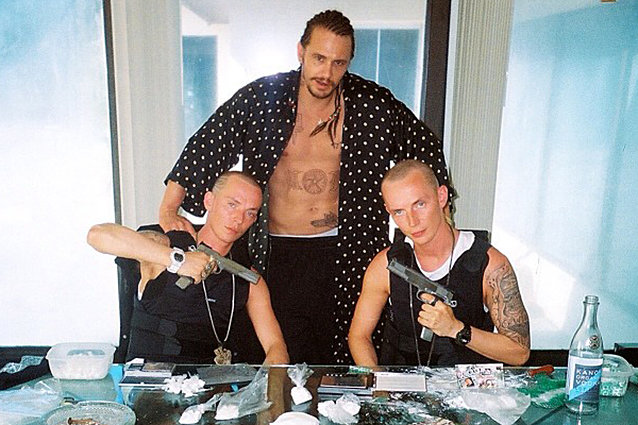 Even if you managed to walk away from Harmony Korine's latest film Spring Breakers without the effects of PTSD, you're bound to have some questions. First and foremost, a quivering "Why?!" But there are other, more specific questions, too.
For instance, who were those creepy twins? Or that guy with the ice cream cone tattooed on his face? And what was all that so-called s**t that James Franco's character Alien was yelling about? Hopefully, our glossary of all things Spring Breakers might be able to give you some answers…
ATL Twins
Sidney and Thurman Sewell, inseparable Atlanta-based brothers whose skateboarding career helped access the attention of Vice Magazine, which in turn printed a 2012 interview with the pair regarding their bizarre lifestyle and sexual proclivities (i.e., their sharing of a bed, and dogmatic devotion to only sleeping with girls together). The Sewells have a minor part playing themselves in Spring Breakers as associates of Franco's Alien, who comments on their penchant for "double penetration."
Britney Spears
American pop icon whose career as a recording artist and tabloids mainstay is chronicled comprehensively viaSpring Breakers'use of her hit numbers "…One More Time" and "Everytime," as well as the overarching subtext of the film (as documented here).
Calvin Klein Escape
men's fragrance developed by the Calvin Klein fashion house incorporation in 1993. Franco's Alien is the proud owner of one or more containers of Calvin Klein Escape.
RELATED: 'Spring Breakers' Is Hot at the Box Office as It Parlays SXSW Success
Dangeruss
Russ Curry, a Florida-based hip hop artist who is confirmed by director Harmony Korine to have inspired Franco's character Alien. Crafted such musical numbers as "My Fork."
DTF
Colloquial Acronym Representing The Phrase "Down To F**K," Signifying A Party's Willingness To Engage In Acts Of Promiscuity. The Acronym Can Be Read On The Seat Of The Sweatpants Worn By The Characters
Dubstep
Genre of electronic dance music featured prominently throughout Spring Breakers. See: Skrillex
Gucci Mane
Radric Davis, an Atlanta-born hip hop artist who plays Alien's nemesis Archie in Spring Breakers. Sports a larga facial tattoo of an ice cream cone. In 2006, Davis served six months in prison for aggravated assault. His highest charting album to date was 2010's The Appeal: Georgia's Most Wanted
Kool-Aid
Brand of flavored mix drink introduced in the United States of America by Kraft Foods in 1927. Franco's Alien boasts ownership of the "blue" variety.
RELATED: For Your Consideration: James Franco in 'Spring Breakers,' 2014 Best Supporting Actor
My Little Pony
American entertainment franchise spawned in 1983 as a Hasbro toy line; since has taken form in various children's television programs, including the 2010 iteration My Little Pony: Friendship Is Magic, which is referenced visually sporadically throughout Spring Breakers.
Nunchucks
From the Japanese nunchaku, traditional weapon employed in the Okinawan martial arts. Franco's character Alien boasts ownership of one or more pair.
Riff Raff
Jody Christian, Texas-based hip hop artist who has appeared on the MTV reality series From G's to Gents. claims to have been the basis for Franco's Spring Breakers character Alien, which Franco decrees to be untrue.
Sai
Traditional martial arts weapon consisting of one long pointed metal baton and two smaller curved prongs to its side. Franco's Alien boasts ownership of one or more.
Scarface
1983 crime drama epic directed by Brian De Palma and starring Al Pacino as antihero Tony Montana. The film was adapted from Howard Hawks' 1932 gangster movie of the same name. Franco's Alien has a copy of Scarface playing on perpetual repeat.
Shorts
Bifurcated garment covering the waist down to the knee, with varying degrees of length. Often warm in lieu of long pants to accomodate for warm weather, or as a decision of fashion. Franco's character Alien owns many pairs of shorts, in a variety of colors. This is a fact in which he takes a good deal of pride.
RELATED: James Franco Directs Music Video for the Man Who Inspired His 'Spring Breakers' Character
Shuriken
Traditional Japanese concealed weapon bearing the form of a pointed cross or star, colloquially referred to as "throwing star." Franco's Alien boasts ownership of one or more. 
Skrillex
Sonny John Moore, electronic musician whose music is featured prominently throughout Spring Breakers.
Spicious
Regional slang for "suspicious." term used by Franco's Alien.
Spring Break
A seemingly fun and carefree vacation getaway that will destroy your soul and mind. Spring break forever.
Follow Michael Arbeiter on Twitter @MichaelArbeiter.
[Photo Credit: Instagram]
---
You Might Also Like:


15 Oscar-Winning Nude Scenes


Young Jack Black Is Totally Unrecognizable