'Spring Breakers': James Franco for Best Supporting Actor 2014? — TRAILER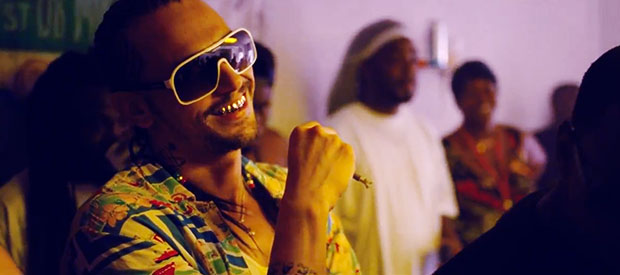 "Look at my s**t." – Alien (James Franco) in Spring Breakers.
As we close in on Spring Breakers' March release date, it's becoming more and more apparent that the Selena Gomez and Vanessa Hudgens-led flick isn't what early paparazzi shots suggested it might be. The first batch of set pics showcased the two young actresses zipping around the streets of Miami on scooters, clad in skimpy bikinis. Perfectly reasonable for Gomez and Hudgens, on the typical quest to break out of their child actor backgrounds. But the latest trailer for a movie — demanding a hard, NSFW label — is anything but typical. Impressively, four co-eds robbing a local diner to fund their Spring Break trip is one of the least shocking moments in the new spot.
RELATED: 'Spring Breakers': The Movie About Selena Gomez & Vanessa Hudgens in Bikinis — PICS
If you've ever doubted self-proclaimed Renaissance man James Franco, meet his latest creation: Alien, a rapper-turned-gangster who dominates the Spring Breakers red band trailer. Gomez, Hudgens, and the rest of the Spring Break quartet certainly stir up in the film, but it's nothing compared to the ridiculousness of Franco. Let the 2014 "Best Supporting Actor" Oscar campaign begin now.
Check out the new trailer and start saving your money — Spring Breakers drops into theaters March 22, 2013.
Follow Matt Patches on Twitter @misterpatches
[Photo Credit: A24]
---
You Might Also Like:

Who Wore This Crazy Hat?

Stars Who Changed Their Look