'Spring Breakers': Selena Gomez in the Darkest Damn Movie You'll Ever See — TRAILER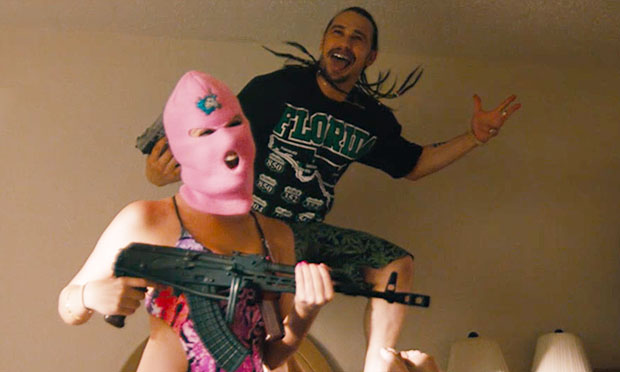 It's a Sunday afternoon. You're flipping through the movie listings, seeking out a big screen pastime to enjoy with your children, little siblings, pre-teen cousins, or whatever youths you might have at your disposal. You happen upon Spring Breakers, a film starring Selena Gomez and Vanessa Hudgens. Now those are some family friendly starlets! What you're in for must be a wholesome comedy about a band of college girls setting out on a beach party adventure where they'll doubtlessly learn the values of friendship and believing in themselves. And it's directed by a guy named Harmony — how much more pleasant can this be?
But then you arrive at the cinema, to be warned by a knowing employee that the film you're about to enter with your 12-year-old niece is, in fact, is not what it seems. The R-rated, twisted exploration of human depravity, coming from the creative force behind similar transgressive exploits like Kids and Gummo, has released a new trailer, showcasing with wholehearted force just how dark and bizarre it is. Gomez and Hudgens embark upon a foray of crime and hedonism in an effort to combat boredom, their journey sponsored by a deranged subculture demigod called Alien (James Franco).
The chilling montage of debauchery will likely stir and perplex anyone not familiar with a Harmony Korine picture. And all those well in the know about his past work should be prepared for some starkly disturbing imagery. Check out the brief clip below, and keep these warnings in mind when you're seeking a summertime flick for the whole family. Maybe reserve this one for you and your dark, artsy cousin.
[Photo Credit: A24 Films]
More:
Gomez, Hudgens, and Benson Sell 'Spring Breakers' with Skin — POSTERS
TIFF 2012: 'Spring Breakers' Marks the End of Selena Gomez's Innocent Era
'Spring Breakers': What Does Selena Gomez Plus Harmony Korine Equal? — FIRST CLIP

100 Hottest Women of the Century: Do You Agree?