'Spring Breakers': What Does Selena Gomez Plus Harmony Korine Equal? — FIRST CLIP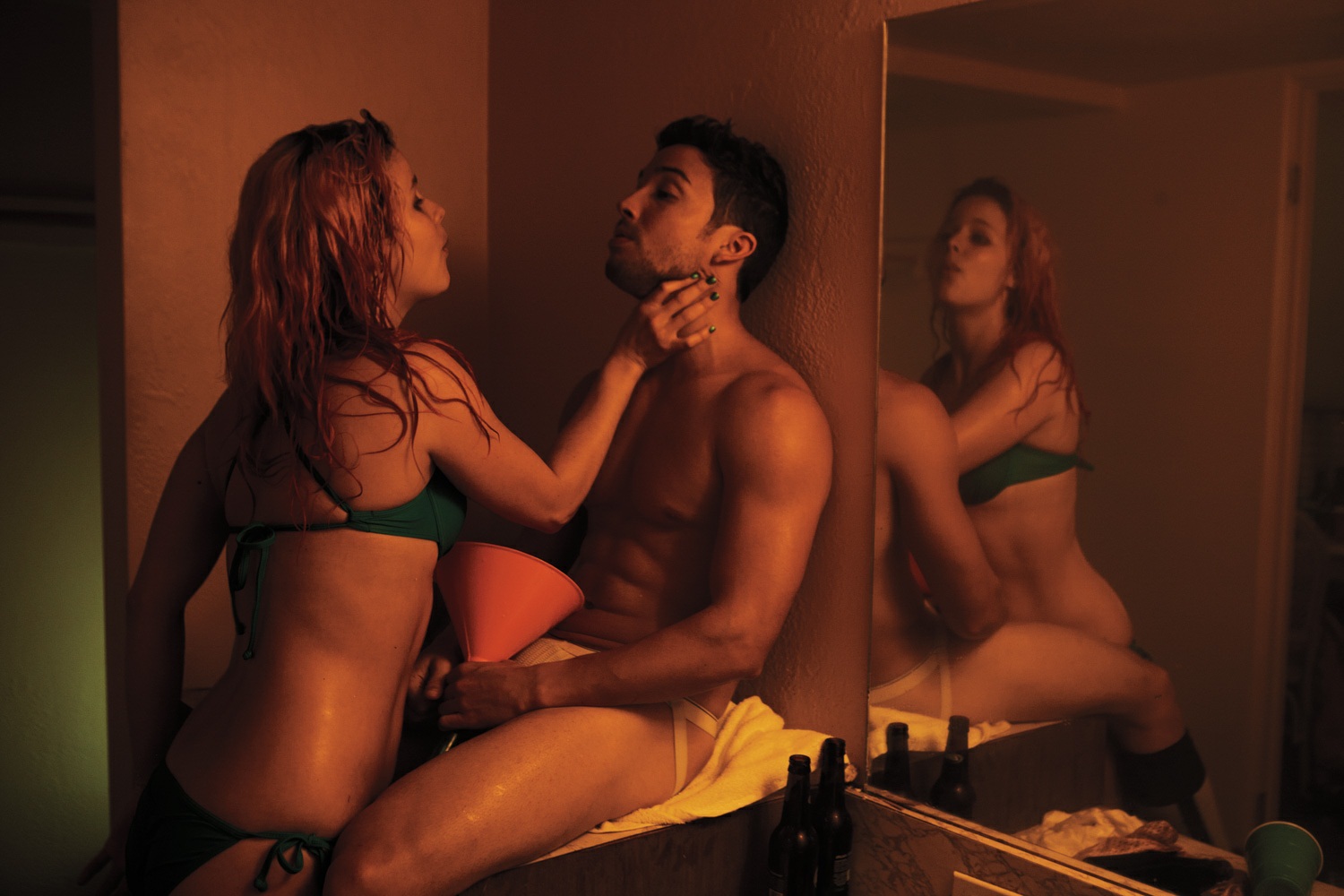 There are a handful of experiences in this world that can really, truly change a man. Really get to his core and mess things up. There's war. Prison. Being lost at sea, probably. And watching a Harmony Korine movie for the first time. If you've never braved the challenge, then you probably still foster some semblance of faith in the idea that the universe is a wholly good and rational place. Ah, to be young again…
Korine's latest venture is Spring Breakers, a film that starts young pop idols Selena Gomez and Vanessa Hudgens — Muse Entertainment/Division Films have released a first look at the movie, which you can watch in the clip below (courtesy of  in an "adventure/comedy/drama", according to IMDb) about "four college girls who land in jail after robbing a restaurant in order to fund their spring break vacation find themselves bailed out by a drug and arms dealer who wants them to do some dirty work." Sounds like a wacky summer comedy, maybe veering a little closer to the R-rating than the names involved might suggest, doesn't it? Still, nothing too shocking. Knowing Gomez and Hudgens, it'll probably boast a series of cartoonish calamitous hijinks, maybe a musical number or two, and life lessons about friendship, growing up, and getting your head in the game.
Well, that's probably not what is going to happen…
See, Korine is the writer and filmmaker behind such twisted gems as Kids, Gummo, and a handful of short films, all of which embrace bonkers sensibility and wormhole-levels-of-dark themes. Take 2011's Snowballs, wherein two young girls dressed as Native Americans are lured into the home of a lecherous old man with a hi-fi. Or Umshini Wam, also made in '11, in which a wheelchair-bound duo goes on a killing spree to earn the respect of others. How about the 2009 feature film Trash Humpers, which is exactly what it sounds like. In short, Korine's pieces are definitively macabre and bizarre.
Unsurprisingly, Korine has not worked with a great deal of big name (or even moderately recognizable) actors. Chloë Sevigny, whose first and third features were Kids and Gummo, in '95 and '97 respectively, is really the only of Korine's actors to have graduated to any modicum of mainstream fame — Sevigny also worked with Korine on 1999's Julien Donkey-Boy and the 2009 anthology film 42 One Dream Rush.
It's worth wondering how the presence of already big-name figures like Gomez, Hudgens, and James Franco (who plays the drug/arms dealer mentioned in above synopsis) will affect Korine's voice. With these actors attached, Spring Breakers is already more largely associated with the mainstream than anything Korine has written or directed before. So is he changing his ways to make a more approachable movie? Or is it just the opposite — he's working his way into the mainstream with the likes of Gomez and Hudgens, only to unleash his mad genius unto the world in the most unexpected, shocking, and provocative fashion yet? James Franco does seem like he'd be totally on board with a plan like that.
Somewhere between the expectations of a Gomez/Hudgens summer adventure, and the past trash-humping, STD-spreading, Da Fool-acting works of Korine lies the above clip, wherein Gomez spouts a nihilistic deconstruction of her nothing town, while Hudgens sits quietly, mock-shooting her friends and self with her fingers. It's dark and ominous, but hardly enough of either to be notable as a classic Korine piece. Granted, it's only a 30-second video, and an introductory one at that. But in this clip alone, we feel a more comprehensible and reliable reality than we've seen in past Korines.
Admittedly, Korine's 2007 feature Mister Lonely does swim in gentler territories than Kids and Gummo do, and serves its story with a greater responsibility to linear structure. It's still an odd film, but it's Korine's softest picture to date; thus, we know that Korine can bridle his chaos and still produce something worth watching. But can Korine still do this when the themes involved are the ones boasted by Spring Breakers? Robbery, assault, drugs, weapons? If Korine dials back his proclivity to handle these elements explosively (as he always does), will it feel like he's selling the movie short of his unique take on the subject matter?
Again, the 30-second clip, mild (for Korine) as it may be, doesn't conflict with the possibility of an overall diabolical attitude. Maybe the mood gradually evolves toward madness as the girls descend deeper into trouble; or maybe, in the context of the story, the above clip will seem a hell of a lot more threatening and heated than it does on its own. The point is, we shouldn't expect anything close to what the phrase "Selena Gomez/Vanessa Hudgens spring break movie" would ordinarily suggest. Even the softest, most linear, most normal movie Harmony Korine is capable of making will still be, invariable, some degree of bats**t.
So enjoy!
More:
Selena Gomez, Vanessa Hudgens, Bikinis and Scooters on 'Spring Breakers' Set: Photo
'Spring Breakers': The Movie About Selena Gomez & Vanessa Hudgens in Bikinis — PICS
Val Kilmer on Fake Val Kilmer, Real Tom Cruise and Saving Angelina Jolie's Breast