'Stand Up Guys': How Would Al Pacino Spend His Last Day on Earth? — TRAILER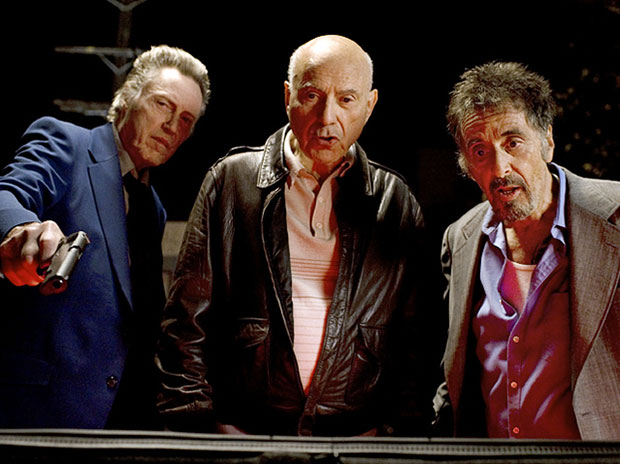 The "24 hours to live" theme is one that has been undertaken by many a film. The forces working against the doomed main character can take the form of a murderous villain, illness, or some kind of supernatural element. The hero in question can be an innocent victim or a deserving lech. The journeys can be dramatic or funny, the endings happy or sad. The theme finds many manifestations, as you can see. The latest: Stand Up Guys, a story about a criminal (Al Pacino) who is released from jail, only to find out that his best friend and fellow gangster (Christopher Walken) has been, regretfully, tasked with killing him.
But apparently, there are no hard feelings. As we see in the trailer, Walken is straight with Pacino about the mission. It's either kill or be killed, by the Big Cheese behind it all. As such, Walken treats his pal to one final day on Earth, doing whatever it is he dreams of doing. Along for the ride is Alan Arkin, always a welcome adventurer, who joins the duo in stealing fancy cars, enjoying a fair share of narcotics, and doubtlessly engaging in a slew of other illicit activities.
The trailer suggests a good deal of comedy, a bit of sentiment, and a healthy dose of action. How well will it all come together? Well, the theme has spawned such greats as Logan's Run and such not-so-greats as Last Holiday. It's got Pacino, Walken, and Arkin… not to mention the impossible-to-overstate-his-majesty Fisher Stevens (Short Circuit was a big deal to me) behind the camera. So it's at least worth our attention for now.
[Photo Credit: Lionsgate]
More:
TIFF 2012: 7 Reasons 'Seven Psychopaths' Is One to Watch
Al Pacino To Play Joe Paterno in Upcoming Biopic. Who Should Play Sandusky?