'Star Trek Into Darkness' Crashes IMAX Site with Advance Ticket Sales (Scotty Called in for Repairs)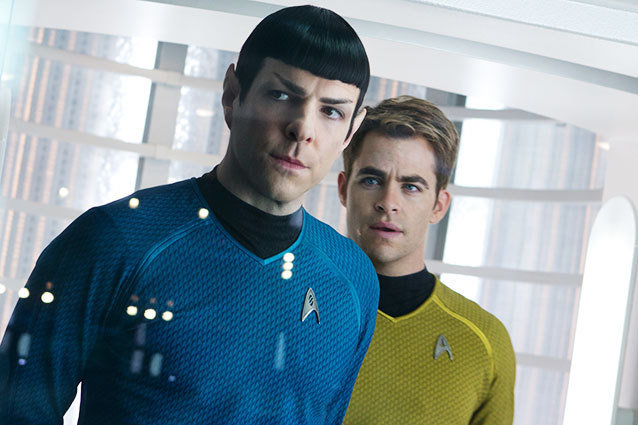 It's dead, Jim.
The "it" in this case refers to the server for the IMAX U.K. website, which crashed April 9 due to overwhelming demand from customers ordering tickets for Star Trek Into Darkness in the large-screen format. J.J. Abrams' Trek sequel opens in IMAX on May 9 in the U.K., a full six days before its stateside IMAX release (followed by its general release May 17), but, even still, those Brits cannot wait. Maybe they're just really excited to see what devastation renegade Federation agent John Harrison has in mind for London.
The IMAX U.K. website reported 10 times its usual traffic when tickets went on sale, and, despite a similar high-volume traffic problem last year that caused Australia's IMAX website to crash when tickets for The Dark Knight Rises went on sale, no safety protocols were in place.
The British Film Institute tweeted the following to its customers: "Due to overwhelming demand for Star Trek IMAX online booking is currently down," adding, "We're doing all we can to rectify. Do bear with us."
Paramount U.K. also stepped in to say, "To book @BFI @IMAX tickets for #StarTrek #IntoDarkness call 0330 333 7878, while their online booking is down due to overwhelming demand." 
What they really need is a miracle worker.
More:
So Do We Finally Have an Idea of the Plot of 'Star Trek Into Darkness'
'Star Trek Into Darkness' Extended Trailer: What Has J.J. Revealed Now?
How 'DS9' Became the Best, Most Influential 'Trek'
Follow Christian Blauvelt on Twitter @Ctblauvelt
---
From Our Partners:


Eva Longoria Bikinis on Spring Break (Celebuzz)


33 Child Stars: Where Are They Now? (Celebuzz)