'Star Trek Into Darkness' Beams Up to First Place at the Box Office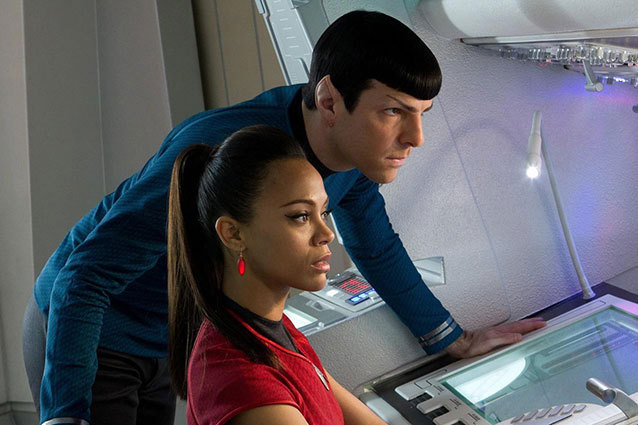 You won't need to break out your Vulcan mind meld to figure out that Star Trek Into Darkness has landed atop the weekend box office with boffo 'bucks in tow. The sci-fi action epic raked in a total of $84 million domestically on its Thursday through Sunday run. The film opened strong with super fans heading out to theaters early, but ultimately performed softer than expected, unable to best Star Trek's 2009 debut intake of $79.2 million. Still, the film was a major hit with the fanboy audience, as evidenced by IMAX and its $13.5 million or 16% portion of the gross to date for the film — not that it had to use any sort of brute Klingon force to get it there. Despite tough competition from fellow bigwigs Iron Man 3 and The Great Gatsby, the Star Treksequel from J.J. Abrams played on a crazy, combined total of 3,868 IMAX and traditional movie screens over the weekend, and made $70.55 million of its total Friday through Sunday. Which means the film averaged a very admirable $18,097 per theater.
But Captain Kirk and his mysterious adversary John Harrison weren't the only ones bringing home the bacon: as of last week, Iron Man 3 topped$1 billion globally. And what's cooler than a billion dollars? How about being named the 9th highest grossing film of all-time internationally AND globally? Add to that the additional $35 million the sequel raked in, and the number two spot for the weekend and, yeah, you can see why it's good to be Tony Stark. Iron Man 3 now has an international total around $736.2 million and a global total of $1.73 billion. The bar keeps getting raised by those impressive Marvel Studios intakes.
Rounding out the top three was fellow wealthy man-about-town Jay Gatsby. The Great Gatsby charlestoned its way into theaters with a respectable (and better-than-expected) $51.2 million opening weekend, and kept the number three spot with another $23.4 million, meaning it's closing in on the $100 million mark with $90.1 million total domestic gross. Tailing behind in third and forth place, respectively, were Pain & Gain with $3 million (total: $46.5 million), and The Croods with $2.7 million, bringing its grand domestic total up to $176.75 million.
Here is the breakdown of the top 5 films:
1.  Star Trek Into Darkness – $70,555,000 (wknd) | $84,091,000 (dom)
2. Iron Man 3 – $35,182,000 (wknd) | $337,073,000 (dom)
3. The Great Gatsby – $23,4155,000 (wknd) | $90,159,000 (dom)
4. Pain & Gain – $3,100,000 (wknd) | $46,574,000 (dom)
5. The Croods – $2,750,000 (wknd) | $176,750,183 (dom)
More:
'Star Trek Into Darkness' to Boldly Lead Weekend Box Office
'Iron Man 3' Beats 'The Avengers' International Debut
'The Great Gatsby' Does Better Than Expected
---
From Our Partners:


What Happened to 33 Child Stars (Celebuzz)


40 Most Revealing See-Through Red Carpet Looks (Vh1)