In Time for 'Star Trek Into Darkness,' Trekkie Converts Home into the Enterprise
There are levels of Trek fandom, never more apparent during the week of Star Trek Into Darkness' release. The causal viewer knows the names of the main characters, has seen a handful of episodes from all of the various series and caught each big screen adaptation as they've hit theaters. True "Trekkers" take it to the next level, absorbed in creator Gene Roddenberry's Utopian vision. They dress up in Federation-approved uniforms, debate the details of the franchise's mythology, and make their own treks to annual conventions.
But it can get even more hardcore. Take Steve Nighteagle, who is currently in the process of turning his home into a replica of the U.S.S. Enterprise. The results are something to behold.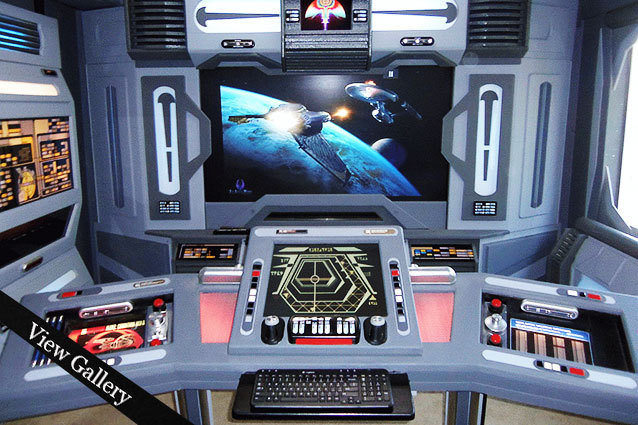 "I work on it 7 1/2 months out of year!" Nighteagle tells DestasaBlog. The interior makeover seems to be partially out of love for Trek, partially out of a need for an all-consuming hobby. "Without filling in the rest of the year doing sci-fi I would be like a lot of folks who sit in a chair watching the boob tube. Too many years like that would put me in the grave!"
Nighteagle's investment in Trek lore is especially apparent when he describes watching the franchise's second theatrical installment, The Wrath of Khan, for the first time. "When Spock died…I couldn't believe it! I knew Leonard was very iffy about doing another movie! What was Star Trek going to do with this crew in future movies (without Spock)? It would be like eating a apple without your hands!" he says.
Click the image above or this link to get an inside look at Nighteagle's mind-blowing Star Trek house, which also includes built-in references to Duncan Jones 2009′ sci-fi flick Moon. Sure, why not?
Follow Matt Patches on Twitter @misterpatches
More:
The Craziest 'Star Trek' Theory You'll Read Today
'Star Trek Into Darkness': OMG Faces Edition
How 'DS9' Became the Best Trek
---
From Our Partners:


What Happened to 33 Child Stars (Celebuzz)


40 Most Revealing See-Through Red Carpet Looks (Vh1)