Benedict Cumberbatch Crashes the 'Star Trek Into Darkness' Universe into the Ground… Literally — TRAILER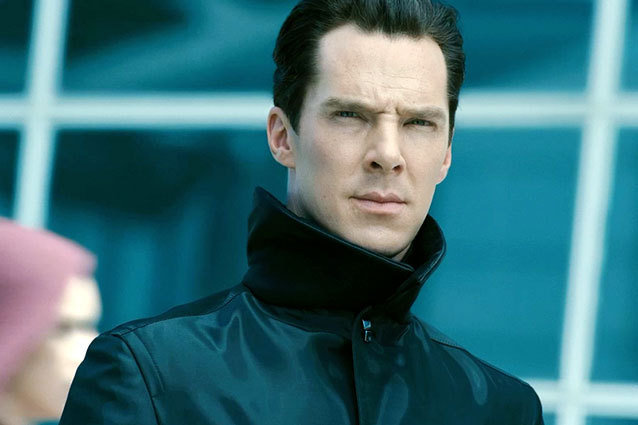 "I am better."
"At what?"
"Everything."
Benedict Cumberbatch, we don't really know what your Star Trek Into Darkness character is up to, or who he really is, but one thing is certain: he's a ruthless, egotistical jerkface. And we love it.
A new trailer as arrived for J.J. Abrams' sci-fi blockbuster and the emphasis is once again on Cumberbatch's mysterious "John Harrison," a villain who is described in the spot as being one of the Starfleet's "top agents." Meaning, at one point, Harrison may have been jetting around space in his own U.S.S. Enterprise.
RELATED: 'Star Trek Into Darkness': Khan We Tell Who The Villain Is?
Whatever Harrison is up to, it's clearly tied to Captain Kirk (Chris Pine). Even Harrison's largest attacks — of which we see variety in all their explosive glory — feel tied to Kirk, as if our baddie is laughing in the face of his enemy (which he does when he lets Kirk know how much better he is at… everything). While the entire crew of the original film returns for Star Trek Into Darkness, the team is sidelined here. Spock (Zachary Quinto) makes a few quips, Uhura (Zoe Saldana) delivers honest truth, and Scotty (Simon Pegg) shoots an "oh s**t" glance that foreshadows the movie's big stakes. But it's very much Kirk's story, founded on whatever clash that tethers him to Harrison and the madman's plots of destruction. The ultimate pissing contest.
Check out the trailer below and weigh in: is Star Trek Into Darkness one of your most anticipated blockbusters of 2013? With a fully-loaded May — including Iron Man 3, The Great Gatsby, The Hangover 3, and Fast & Furious 6 — there's heavy competition. But Abrams' shiny new Trek looks to pull out all the stops in its second installment. Nothing like a little warp speed during the summertime.
RELATED: IMAX President Talks 'Star Trek Into Darkness,' the 20-picture WB Deal, and Beyond
Follow Matt Patches on Twitter @misterpatches
[Photo Credit: Paramount Pictures]
---
You Might Also Like:


15 Oscar-Winning Nude Scenes


Young Jack Black Is Totally Unrecognizable