Producer Kathleen Kennedy Picks 'Star Wars VII' Over 'Jurassic Park 4'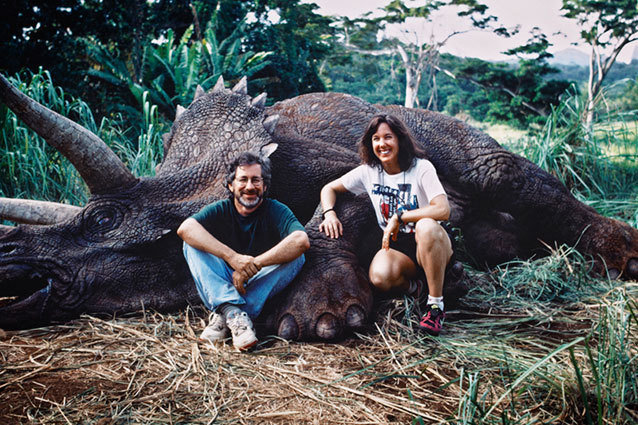 "So, you wanna play dinosaurs, or you wanna play outer space?" It's a question you undoubtedly braved, Saturday afternoon after Saturday afternoon in your friend Timothy's basement back in third grade, plagued by the overwhelming decision of how to pass the time until SNICK came on. While most of us grew up to take on a different breed of challenges — making rent, rearing children, mourning Downton Abbey characters — film producer Kathleen Kennedy's biggest problem today still seemes to be dinosaurs vs. outer space. And after a long adherence to the former, she's finally opting for that galaxy far, far away.
RELATED: Harrison Ford Joining 'Star Wars VII'?
Kennedy, producer on each chapter of the Jurassic Park franchise to date — as well as many other Steven Spielberg ventures, from E.T. to Schindler's List to Lincoln — will reportedly be dropping out of production on the developing Jurassic Park 4. The news broke via a tweet from Kennedy's partner Frank Marshall, responding to a fan's question about Kennedy's involvement in the upcoming dinosaur epic (making the real news here the notion of simple human conversation resulting in tangible information). Marshall's tweet goes on to confirm that Kennedy will, in fact, be working production on Star Wars VII , over at Disney.
Making Kathleen Kennedy, the woman who had to choose between making a  Jurassic Park movie and making a Star Wars movie, the envy of just about every 8-year-old who ever lived.
RELATED: Steven Spielberg Will Produce 'Jurassic Park 4' in 2014
Although fans of the Jurassic Park series will likely lament the absense of Kennedy on the fourquel, it is clear that her powers must be harnessed elsewhere: through a venue where her creative vision can do a lot more good than it can on the aguably tired dino franchise. There is more hope attached to Star Wars VII than to Jurassic Park 4; more interesting worlds to conquer in space than across Pangea.
RELATED: Standalone Yoda Movie in the Works?
And this boundless new territory will fare well under the eye of a figure who has quite the joyful résumé. Not only is she well-versed in the pastimes of dinosaurs and outer space, but she has gotten her hands dirty with Saturday afternoon romps in the realms of robots, aliens, pirates, cowboys and Indians, and the classic, playing house. As such, we're pretty confident in her abilities to take on the vas cosmos… so long as she's not too stingy with the Boba Fett action figure (she always gets to be him.
Follow Michael Arbeiter on Twitter @MichaelArbeiter.
[Photo Credit: The Kennedy/Marshall Company]
---
From Our Partners:

'Groundhog Day' Cast: Where Are They Now? (Moviefone)

40 Most Revealing See-Through Red Carpet Looks (Vh1)