J.J. Abrams Didn't Want 'Star Wars' and 6 Other Secrets Behind Disney's Lucasfilm Deal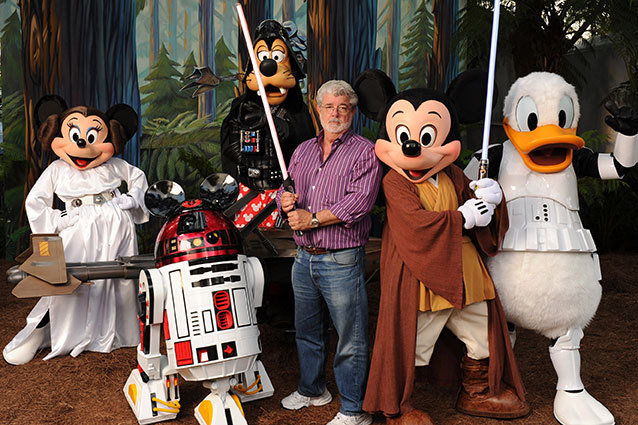 We know, we know. All the details of Lucasfilm's sale to Disney, and the resulting news that new Star Wars movies will be produced, have been scrutinized with the fine tooth comb of Rebel Alliance battle strategists poring over Death Star schematics. What new intel could there possibly be to learn?
Well, an in-depth new feature in Bloomberg's BusinessWeek magazine shows that, actually, there is still quite a lot to be gleaned about the mega-merger, what prompted George Lucas to hand over the reins to his multi-billion dollar company, and how exactly J.J. Abrams was convinced to make the jump to lightspeed. Here are seven things we learned from reporter Devin Leonard's fascinating piece:
1. George Lucas May Really Be a Jedi Master
At the May 2011 opening of the Star Wars: The Adventure Continues attraction at Disney's Hollywood Studios in Florida, Disney CEO Bob Iger and former Lucasfilm chairman Lucas engaged in a duel with plastic lightsabers. Iger quickly found himself outmatched. "[George] just has this way of carrying that light saber," Iger recalls. "He was more adept at using it than me."
RELATED: 'Star Wars: Ep. VII': Carrie Fisher Says Leia, and the Metal Bikini, Will Return
2. Lucasfilm's Official Database of Star Wars Lore Is Called the "Holocron"
Now diehard fans of the saga already know about the Holocron, a database named after a crystalline Jedi/Sith data storage device that keeps track of over 17,000 Star Wars character, over 2,000 planets, and some 30,000+ years of Galaxy Far, Far Away History. What they might not know, given the ubiquity in Star Wars fandom of Wookieepedia, is just how extensive Lucasfilm's official Holocron is. Need to know exactly with whom Yoda visited during his 22 years of exile on Dagobah? The Holocron (curated by the affable Leland Chee, whose official title is "Keeper of the Holocron.") can tell you!
RELATED: 'Star Wars' Authors Share How to Make the Best 'Episode VII'
3. George Lucas says that Lucasfilm had been deep in talks with Mark Hamill, Carrie Fisher, and Harrison Ford, even well before the Disney deal was finalized
"We had already signed Mark and Carrie and Harrison — or we were pretty much in final stages of negotiation," Lucas said. "So I called them to say, 'Look, this is what's going on.'  Maybe I'm not supposed to say that. I think they want to announce that with some big whoop-de-do, but we were negotiating with them…I won't say whether the negotiations were successful or not." For a major casting announcement like that, Lucasfilm's history is never to let any one media outlet announce it for them. They would insist upon announcing news that major directly through StarWars.com.
4. J.J. Abrams Did Not Lie When He Said in November 2012 He Wasn't Involved With Episode VII
Fans were happy when he officially signed on to the project in January, but there definitely was a little bit of bickering about why exactly he was so adamant just two months before that he would not be involved. Well, he wasn't lying to us, if that makes you feel any better. Abrams did not want to helm Episode VII as he thought it would be too similar to his work on the Star Trek franchise. But Lucasfilm President Kathleen Kennedy stopped by Bad Robot's Santa Monica production headquarters for a two-hour meeting in late December, and that two-hour meeting caused him to change his mind.
RELATED: 'Star Wars: The Clone Wars' Recap: The Fate of Ahsoka
5. Disney's Purchase of Lucasfilm was First Discussed at a Disney Theme Park
Specifically, the Brown Derby restaurant at Disney's Hollywood Studios in May 2011, when Lucas was on-hand to open Star Tours: The Adventures Continue. Disneyphiles can tell you that the Brown Derby is a faithful recreation of the original Hollywood landmark (immortalized in a classic I Love Lucy episode in which Lucy Ricardo stalks William Holden), the kind of place where lots of wheeling and dealing would happen. What better venue for an entertainment merger as significant as the Disney-Lucasfilm deal to take place than at its facsimile?
6. Steve Jobs Let Disney CEO Bob Iger Know How He Really Felt About Some of the Studios' Movies
The Apple co-founder was the largest shareholder on the Disney board of directors. Maybe that's why he felt he could call Iger to say, "Hey, Bob, I saw the movie you just released last night, and it sucked." (No specific titles were mentioned in the article, but we choose to believe he was referring to The Sorcerer's Apprentice.) Despite that criticism, Iger says that his relationship with Jobs was "additive rather than the other way around."
7. That Star Wars Live Action Series Could Still Happen
Though he's not quoted directly in the BusinessWeek article about this, Iger has apparently confirmed that discussions about the long-rumored live-action Star Wars TV series, tentatively titled Star Wars: Underworld, are still taking place.
You see, Padawan readers, much to learn there still is.
Follow Christian Blauvelt on Twitter @Ctblauvelt
[Photo Credit: Todd Anderson/AP Photo/Disney] 
---
From Our Partners:


40 Most Revealing See-Through Red Carpet Looks (Vh1)


15 Stars Share Secrets of their Sex Lives (Celebuzz)