'Star Wars Episode VII' Casting Rumor: Alex Pettyfer & Rachel Hurd-Wood Considered, But Who'd They Play?
Another day, another Star Wars Episode VII casting rumor. First, there was fevered speculation over whether Mark Hamill, Carrie Fisher, and Harrison Ford would return to J.J. Abrams' continuation of George Lucas' saga. Still no official confirmation there, but it seems likely. Then the rumor mill went really crazy, suggesting that Ryan Gosling is being considered (he wasn't interested) and that so is Jonathan Rhys-Meyers (he might be). The source of much of this speculation? Online fanboy haven Latino Review, which has also suggested of late that both Ian McDiarmid will return as the Emperor and Ewan McGregor as the Force Ghost of Obi-Wan Kenobi.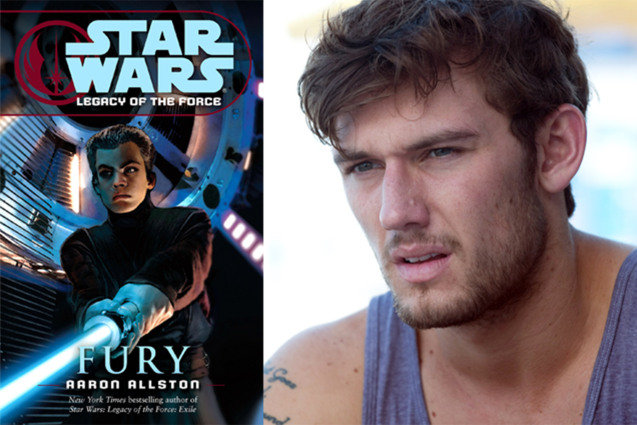 Random House; Everett
Well, now Latino Review has a new rumor: that Magic Mike's Alex Pettyfer and Peter Pan's Rachel Hurd-Wood have auditioned, for the parts of Luke's son and Leia's daughter respectively. This being Latino Review, there might be nothing to it. But both Pettyfer and Hurd-Wood do look somewhat like the characters they'd play, if they remain anything like how they are in the Star Wars Expanded Universe. These are the two roles they might be playing:
Ben Skywalker
Ben (pictured above on the cover of Aaron Allston's Legacy of the Force: Fury) was Luke's only child with his late wife Mara Jade. He's earnest and eager but has a long way to go to be as seasoned as his father. The Expanded Universe has explored the Star Wars timeline to about 40 years after the events of Return of the Jedi, and Luke became a father relatively late. This means that, in the novels, like the most recent entry, Troy Denning's Crucible, a book that may be the end of the post-ROTJ EU as we know it, Ben's only about 16. Assuming that Abrams is working on a film that fits into the existing canon (and, yes, the EU is canon according to Lucasfilm itself) Pettyfer would seem to be a bit old for the part — though 23-year-olds plays 16-year-olds all the time. Of course, Abrams has also shown with Star Trek Into Darkness that he doesn't give a damn about canon, and if Disney is looking for a wholesale reboot they may not be either. Why not make Ben a twentysomething character?
Jaina Solo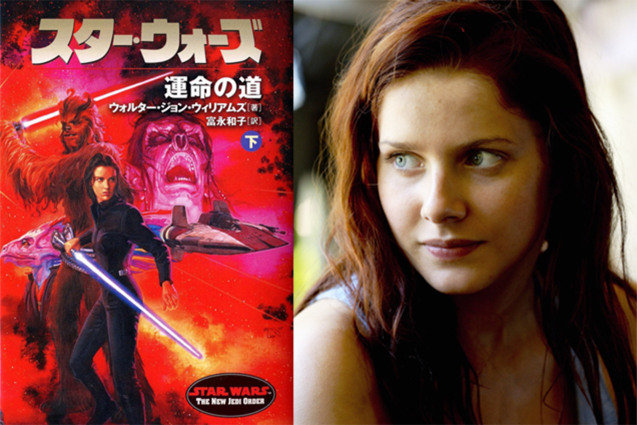 Random House; Everett
If Hurd-Wood is indeed playing Han and Leia's only daughter — and last surviving child, period — she's facing an age discrepancy too. She's only 23, and Jaina's about 33 in Crucible. It seems unlikely she'd be playing older than her own age, so they could be adjusting Jaina for the movies as well. Not to mention that she will face a big challenge: Jaina's one of the single most compelling characters ever to come out of the Expanded Universe. She's such a formidable warrior — not to mention Rogue Squadron pilot — that she's been dubbed "Sword of the Jedi." Most famously, she dueled and defeated her even more formidable brother Jacen, after he'd turned to the Dark Side, become the Sith Lord Darth Caedus, and assumed leadership over the Galactic Alliance. And she was able to do that because, while Luke trained under Yoda, Jaina not only received instruction in the Jedi arts she trained with Boba Fett as well. Basically, in any just universe, Jaina should be the star of Episode VII. And by all accounts this movie will have a female lead. If Jaina is the star, there's another possibility who Pettyfer could be in talks to play…
Jagged Fel
Jaina's love interest in the novels, and eventual husband, is Jagged Fel, an ace starfighter pilot who also becomes the noble leader of what's left of the Empire. When Jaina and Jag marry, it's symbolic closure to the Rebels versus Empire days of the Original Trilogy. Pettyfer could be playing this character, as well, though Jag seems a less likely import from the novels.
Vestara Khai
Another possibility too is that Pettyfer is playing Ben Skywalker, but Hurd-Wood is playing his love interest. In the Fate of the Jedi series, Ben sparred, and eventually fell in love, with this tattooed young Sith apprentice. She's about his age and possesses flaming red hair like his deceased mother Mara Jade — and like Hurd-Wood. The two characters approach life from radically different points of view, which could make for built-in screwball chemistry, something the saga could sorely use. Or it could be that Hurd-Wood is playing a young Mara Jade in flashbacks! Or that she's really set to play Hapan Queen Mother Tenel Ka Djo. Or that Pettyfer is set to play the young host body of the reincarnated Emperor. No, wait that's gotta be Jonathan Rhys-Meyers. Discuss! Discuss! DISCUSS!
More:
Seven of the Craziest Rumors Ever About That Galaxy Far, Far Away
'Star Wars': Han, Luke, & Leia's Passing of the Torch Moment
'Star Wars Episode VII': Carrie Fisher Confirms Leia & the Metal Bikini Will Return
---
From Our Partners:


A Complete History Of Twerking (1993-2013) (Vh1)


15 Stars Share Secrets of their Sex Lives (Celebuzz)