Luke, Han, and Leia Returning to 'Star Wars'? Harrison Ford Says 'I Think It's Happening'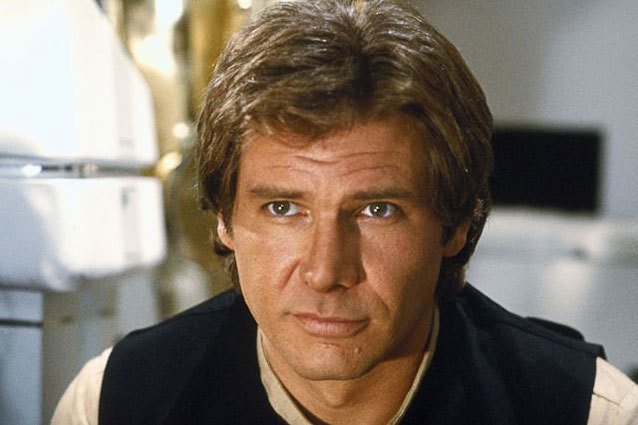 Following in the footsteps of Carrie Fisher's monosyllabic maybe-sorta confirmation that she will be returning to that Galaxy Far, Far Away in Star Wars: Episode VII: Revenge of the Phantom Clones, Harrison Ford has now hinted that he may be donning Han Solo's iconic vest and holster before long. He's been the wild card (or Wild Karrde) in the casting mix for the Return of the Jedi follow-up. Though an anonymous source told EW last fall that Ford "is open" to returning, Mark Hamill didn't mention anything about him participating in talks about the new films he'd had with George Lucas alongside fellow alum Fisher.
RELATED: Princess Leia Will Return for 'Star Wars Episode VII,' Carrie Fisher Says
Maybe that's because Ford, though beloved as Han Solo, is a world-class crank, famous for dissing Lucas ("You can write this s***, George, but you sure can't say it"), and acting pretty uncomfortable with Star Wars' overall success. At a 30th anniversary screening of The Empire Strikes Back in 2010 to benefit St. Jude's Children's Hospital, Ford said, "I don't know that I understood [Star Wars' success] very well. I'm not sure I understand it yet … I was very happy to be involved. I was pleased to be a part of an ensemble."And that was while raising money for sick children! So, yeah, this is a pretty grumpy guy we're talking about.
But after Hamill said that he and his castmates were deep in talks to resume their roles — and that their iconic characters would be killed off outright if any of them should elect not to return — and Fisher seemingly confirmed that she would be donning the cinnamon bun hairdo (and possibly the metal bikini) as an "elderly" Leia, Ford was the last piece of the puzzle. Now, in an interview to Chicago's WGN-TV while raising money for a charity and promoting his upcoming Jackie Robinson biopic, 42, he told a reporter when asked if it's true that he, Hamill, and Fisher, would be returning, "I think it's almost true. I'm looking forward to it. It's not in the bag yet but I think it's happening."
RELATED: 'The Clone Wars' Over, New 'Star Wars' Series Planned
Well, if that isn't a confirmation, I don't know what is! Actually, it's about as murky as a Dagobah marsh. Lucasfilm and Disney have made it very, very clear that nothing is official until it's announced on StarWars.com. But at least we know that Ford actually is excited about the prospect of being the Millennium Falcon's captain again. Or as excited as he can be about anything.
The real question is, do you want a 72-year-old scruffy nerfherder? 
Follow Christian Blauvelt on Twitter @Ctblauvelt
[Photo Credit: Lucasfilm]
---
You Might Also Like:


15 Oscar-Winning Nude Scenes


Young Jack Black Is Totally Unrecognizable