Return of the Jedi? Mark Hamill Reveals He's in Talks for 'Star Wars: Episode VII'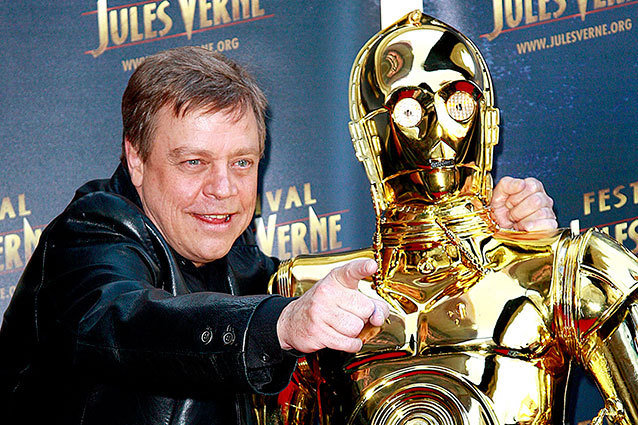 The circle may soon be complete.
When we last saw Luke Skywalker, he was but the learner. Now, it's looking more and more like we'll see him as the master. In a new interview with Entertainment Tonight, Mark Hamill reveals that he's been having discussions with Lucasfilm about the new Star Wars movies slated for 2015 and beyond and has meetings set with writer Michael Arndt and studio president Kathleen Kennedy. Not to mention that his conversations with George Lucas indicate that Luke Skywalker, Han Solo, and Princess Leia may very well be a part of the new movies—but only if the original actors want to resume their famous roles.
RELATED: Star Wars Expanded Universe Authors Tell How to Make the Best Episode VII
"George wanted to know whether we'd be interested," Hamill said. "He did say that if we didn't want to do it, they wouldn't cast another actor in our parts – they would write us out. I can tell you right away that we haven't signed any contracts. We're in the stage where they want us to go in and meet with Michael Arndt, who is the writer, and Kathleen Kennedy, who is going to run Lucasfilm. Both have had meetings set that were postponed – on their end, not mine. They're more busy than I am."
It doesn't sound like Hamill's been clued in on any plot points or storylines regarding the new films, but he does have some guesses about what might happen. "I'm assuming, because I haven't talked to the writers, that these movies would be about our offspring – like my character would be sort of in the Obi-Wan range [as] an influential character." When he found out that Leia was actually his sister, thus meaning that Luke wouldn't have a love interest after all, he says he thought, "'Well, I'm going to wind up like Sir Alec [Guinness]. I'm going to be a lonely old hermit living out in some kind of desert igloo with a couple of robots.'"
RELATED: John Williams Wants to Return to 'Star Wars'
Of course, in the Expanded Universe of Star Wars publishing that's explored the timeline up to about forty years after the events of Return of the Jedi, Luke does get his love interest: fiery Imperial assassin turned Jedi Master Mara Jade. They eventually marry and the result is a son, young Ben Skywalker, meaning that the foundation is already there for a "passing of the lightsaber" scenario. If we consider that the Star Wars galaxy has progressed at the same pace as our universe, then the 30 years out from Return of the Jedi that we are would place Luke right after the events of the harrowing New Jedi Order novel series in which our heroes faced fearsome extragalactic alien invaders, the Yuuzhan Vong. But that part of the timeline is pretty well mapped out, and Lucasfilm has said that the new movies will be based on an original story. That means either they're erasing established canon…or pushing the setting of Episode VII back further to at least forty years after Return of the Jedi, where the timeline, as its been explored so far, comes to an abrupt end.
RELATED: Timothy Zahn on Young Han Solo Movie and Hopes for an X-Wing TV Series
It's hard to imagine a scenario, though, where Lucasfilm wants Hamill to return and he turns them down, thus forcing them to write an offscreen death for Luke. When I spoke to him for EW.com he said he always wished he could wield the lightsaber at least one more time. "It was with mixed feelings that I left the series, because, even though it had a beginning, a middle, and an end, I had only just become a Jedi when it finished," he said. "It'd be like telling the story of how James Bond becomes a Double-0 agent, yet the story ends as soon as he gets his license to kill. Part of me always longed to do just one more film and see what Luke would be like now that he's on the level of Obi-Wan Kenobi, the student having become the master. But it was not meant to be."
Maybe it will be "meant to be" after all.
Follow Christian Blauvelt on Twitter @Ctblauvelt
[Photo Credit: Wenn]
---
From Our Partners:


'Groundhog Day' Cast: Where Are They Now? (Moviefone)


40 Most Revealing See-Through Red Carpet Looks (Vh1)