Blimey! 'Star Wars Episode VII' To Shoot in the U.K. Starting in 2014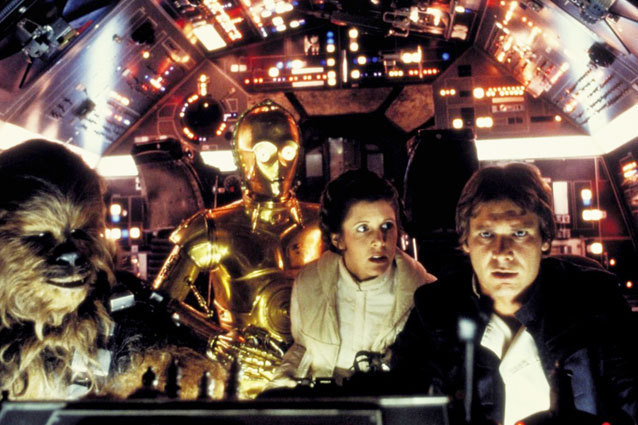 Well, all of Star Wars' best non-Darth Vader villains have British accents, so this news shouldn't come as a shock.  Lucasfilm has confirmed via StarWars.com that Star Wars Episode VII will be shot in the U.K., just like each of its six predecessors.  Part of the choice is likely do with some sweet tax breaks that will surely be afforded to the production. But part of it also, according to Kathleen Kennedy anyway, is to honor the legacy of Star Wars and delve deep into the working methods and traditions that made it so great.
"We've devoted serious time and attention to revisiting the origins of Star Wars as inspiration for our process on the new movie, and I'm thrilled that returning to the UK for production and utilizing the incredible talent there can be a part of that," said Kathleen Kennedy, President of Lucasfilm, in the statement. "Speaking from my own longstanding connection to the UK with films like Raiders of the Lost Ark, Empire of the Sun and recently War Horse, it's very exciting to be heading back."
Of course, the six previous Star Wars films shot all over the world: Tunisia (for Tatooine), Guatemala (for Yavin IV), Norway (for Hoth), Muir Woods, CA (for the forest moon of Endor), and the Italian lake country (for Naboo). But many of the best studio-bound scenes were shot in Britain at Shepperton, Pinewood, Elstree, and Ealing studios. Those are all places that aren't just associated with Star Wars, but have produced decades-worth of classic films from early Hitchcock and the movies of Michael Powell & Emeric Pressburger (Black Narcissus, The Life and Death of Colonel Blimp) to the comedies of Robert Hamer and Alexander MacKendrick (The Ladykillers), and all of Stanley Kubrick's later films — yep, New York was created on a British soundstage for Eyes Wide Shut. 
Kennedy's showing that she has a real affinity for film history with this move and a respect for Star Wars' rich legacy.
Follow Christian Blauvelt on Twitter @Ctblauvelt
More:
'Star Wars' Authors Drew Karpyshyn, Aaron Allston & More on 'Episode VII'
Carrie Fisher Says She's Shaping Up for 'Star Wars Episode VII'
Farewell, Lucasarts: The 10 Best 'Star Wars' Videogames Ever
J.J. Abrams Says John Williams is Onboard for Episode VII
---
From Our Partners:


What Happened to 33 Child Stars (Celebuzz)


40 Most Revealing See-Through Red Carpet Looks (Vh1)