'Star Wars: Episode VII' Has Treatment By 'Toy Story 3' Writer — REPORTS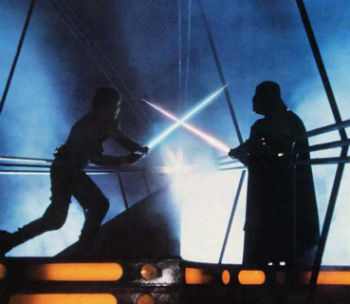 Ever since it was announced that Disney intends to produce a new Star Wars trilogy starting with Episode VII in 2015, speculation has run rampant about who may write the movies. Well, now Vulture thinks they have an answer. The blog is reporting that Oscar-winning Little Miss Sunshine scribe Michael Arndt, who also made legions of grown men cry with his screenplay for 2010's Toy Story 3, was commissioned by Lucasfilm to write a 40-50 page treatment for the new trilogy several months ago, well before the merger deal with Disney was announced to the public.
Responding to Hollywood.com's request for confirmation, reps for both Lucasfilm and Arndt himself replied with an official "no comment." However, The Hollywood Reporter says it has confirmed Vulture's original report, that Arndt has written the treatment and is likely to write a draft of the screenplay for Episode VII.
The idea of Arndt being tapped to help construct the story for the long-rumored sequel trilogy makes sense for several reasons. First of all, he's an in-house pick. Arndt wrote the Oscar-nominated screenplay for universally-adored Toy Story 3. He'd be hopping from Disney subsidiary Pixar to Disney subsidiary Lucasfilm. Second, Arndt is a Hutt-sized Star Wars geek, having talked at length about his admiration for George Lucas's saga, and even giving lectures on what he admires so much about Lucas' storytelling in Star Wars: Episode IV — A New Hope at the 2009 Hawaii Writers Conference and the 2010 Austin Film Festival. Third, his current projects are mostly completed. He's written the screenplay for The Hunger Games: Catching Fire, already in production and due out next year, and it's rumored he's completed at least a draft — if not a finished screenplay — for Pixar's upcoming 2015 head-trip film about the innerworkings of the human brain for Up director Pete Docter.
Of course, Arndt could be one of several writers whom Lucasfilm have tapped for treatment ideas, and there's no guarantee that he'll get to write the final screenplay. Still, if he is the scribe to take Lucas's saga into the future, the Force feels strong with Disney and Lucasfilm's choice.
[Photo Credit: Lucasfilm]
More:
'Star Wars: The Clone Wars' Recap: No Mr. Ollivander for the Jedi
'Star Wars: Episode VII' Burning Questions—8 Directions It Could Take
'Star Wars: Episode VII': Could Mark Hamill and Carrie Fisher Return? text
From Our Partners: