'Star Wars': Lego Unveils Its Biggest Model Ever in Times Square, an X-Wing!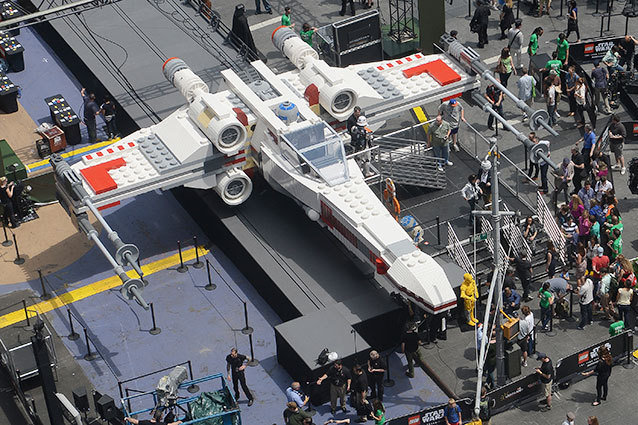 Yoda may have once said, "Size matters not." But that doesn't make the sheer scale of the life-size Star Wars X-Wing replica Lego unveiled in Times Square May 23 any less impressive. Made out of 5,335,200 of the interlocking blocks, this is the largest Lego model ever constructed. 
"When you see the X-Wings in the movies, they look pretty big," says master Lego builder Erik Varszegi of the model, which is 43 feet long, 44 feet wide, and 11 feet high. "But to see this X-Wing here in real life, be able to walk up next to it and sit in the cockpit? That's pretty incredible." 
It'll stay in the center of Times Square through Sunday May 26 as a promotion for Cartoon Network's LEGO Star Wars: The Yoda Chronicles, three half-hour specials animated like the Lego Star Wars videogames. The first installment, "The Phantom Clone," airs Wednesday May 29 at 8:00 p.m. ET. The model will be disassembled into pieces that can be loaded onto trucks and driven across the country to its final home in San Diego's Legoland California. Don't worry, it has a steel foundation and has been approved to withstand an earthquake, if necessary.
Varszegi says that Lucasfilm allowed him access to their archives to get the design specs for the original X-Wing models used in Star Wars: Episode IV — A New Hope. "From those designs we created a detailed 3-D model of the X-Wing in a computer and then skinned it over with Legos," the master builder says. "So wherever that 3-D model intersected with a matrix of 1-by-1 Lego bricks. That gave us a rough shape, and then the designers went in and fleshed out any abnormalities. Once we had the finished file, we sent it to our team of 32 builders." It only took them 17,336 hours to construct it!
Follow Christian Blauvelt on Twitter@Ctblauvelt
More:
20 Really Weird Things About 'Star Wars'
'Star Wars Rebels': New Animated Series Set Between Episodes III & IVAnnounced
'Star Trek Into Darkness' Fan Review: Your 'Star Wars' Prequel Anger Is What I Feel Now
---
From Our Partners


Stars Pose Naked for 'Allure' (Celebuzz)


Which Game of Thrones Actor Looks Least Like His Character? (Vulture)