'Star Wars' to Be Translated Into a Native American Language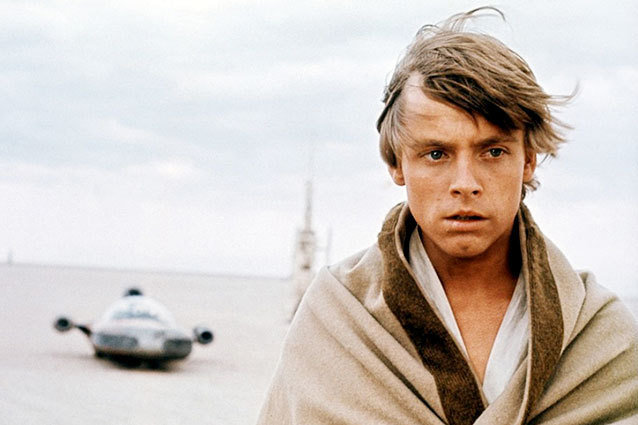 For over 35 years, the Star Wars universe has spoken the universal language of geek. Now the 1977 classic will take on another language. No, not Gungan again, thank goodness. 
Rather, according to The Hollywood Reporter, the original 1977 classic Star Wars will be translated and dubbed into Navajo. Manuelito Wheeler, the director of the Navajo Nation Museum, confirmed they are working with Lucasfilm and Deluxe on the project. While Star Wars has been translated into many different languages, this particular translation is a historic one: it will be the first major Hollywood film to be translated for Native Americans. After all, can you even really translate R2-D2's beeps and bloops into English? 
Of course, for a movie that speaks its own unique language, making it understandable for Navajo audiences will prove to be a challenge with no translations for certain words. As Wheeler explained to THR, "Dine, the Navajo language, often uses a description of what a word does to convey meaning so that several English words are needed to produce a translation." 
"While we have dubbed many films in the past into a variety of languages, this project ranks among the most significant," said Shana Priesz, senior director of localization at Deluxe told THR. The plan is to premiere the  Navajo version of Star Wars at a Fourth of July festival at the museum in Window Rock, Arizona. 
But more exciting than the prospect of introducing Star Wars to Native American audiences, is if you're fluent in both the Navajo language and Star Wars you can finally get your chance to appear in George Lucas' epic sci-fi saga. Well, at least your voice. Voice work auditions and dubs to get the chance to speak the iconic words of  characters like Luke Skywalker and Princess Leia will be held on May 3 -4 in a galaxy far, far away. No, just kidding, it will be at the museum. You can check out full details here. 
More: 
Patton Oswalt's 'Star Wars' Fantasy Poster is a Geek's Dream Come True  
Why 'Clone Wars' Was 'Star Wars' At Its Best
The 10 Best 'Star Wars' Video Games 
---
From Our Partners:


Eva Longoria Bikinis on Spring Break (Celebuzz)


33 Child Stars: Where Are They Now? (Celebuzz)