Patton Oswalt's 'Star Wars Episode VII' Poster Is a Geek Fantasy Come True
Patton Oswalt's pitch to Disney for Star Wars Episode VII on last night's Parks & Recreation, released earlier this week in its full, unedited form, is a hallucinatory explosion of geek imagery. It imagines a red lightsaber-wielding Luke, an adulterous Leia, a chump Han Solo, a Sarlaac-regurgitated Boba Fett, and a disembodied Chewbacca tangling with the omnipotent alien warlord Thanos from Marvel, along with Spider-Man, the X-Men, the Avengers, and the Greek gods from Clash and Wrath of the Titans. Because Sam Worthington will not rest until he's in every franchise. Some of it makes perfectly geeky sense, like bringing back Brian De Palma to write the opening crawl. (Seriously, I've suggested that myself.) It also strikes fear that Star Wars, like the Marvel films also produced by Disney, probably will have post-credit scenes from now on.
Our good friends at EW.com took Oswalt's pitch and ran with it, producing this fantastic fake poster below that imagines Disney's multiple franchises existing in one continuous multiverse.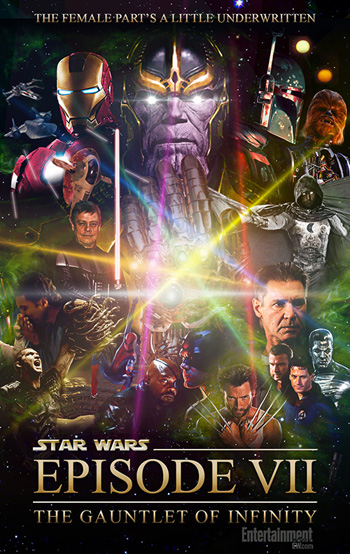 Click over to EW.com to see the full-size image, designed by photo editor extraordinaire Jef Castro. A few questions, though. Is Luke so determined to pay tribute to his father that he doesn't just wield his red lightsaber, he also dons daddy Anakin's Darth Vader armor? Is Leia cut out of the poster — only her hand, being kissed by her lover Lando Calrissian, is visible — because that is how underwritten the female roles really are in Oswalt's vision? And will Samuel L. Jackson really still be playing Nick Fury in Episode VII, even though he played Mace Windu in the prequels?
This is all we can say, EW: "Impressive…most impressive."
Follow Christian Blauvelt on Twitter @Ctblauvelt
More:
Patton Oswalt Continues to Dominate the Internet With His 'Star Wars,' 'Batman' Parodies
Patton Oswalt's Reaction to Boston Tragedy Reminds Us What Makes a Truly Great Comedian
---
From Our Partners:


Eva Longoria Bikinis on Spring Break (Celebuzz)


33 Child Stars: Where Are They Now? (Celebuzz)