'Star Wars: Episode VII' Rumor Superlatives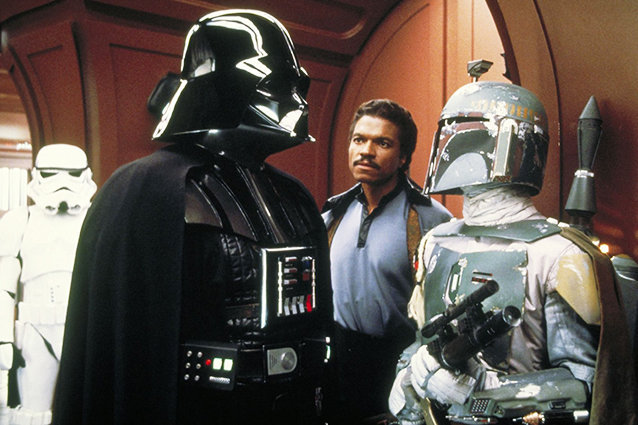 20th Century Fox Film
These days, it seems like every day brings with it a new influx of rumors about Star Wars: Episode VII. From the initial casting reports to the latest cameo rumors to the never-ending, constantly conflicting plot "leaks," every time you turn around there's something else to cover. Even Marvel and DC are struggling to keep up with the barrage of press releases and insider information. With so much to cover, it can be hard to keep track of what seems real (the villains are probably Jedi Hunters, they might resurrect the Sith), what's completely insane (Harrison Ford will be replaced ) and what's already been debunked (most of it). In fact, there might only be one way to keep everything organized and comprehensible: give all of the rumors awards. And that's exactly what we did. 
Least Creative: Production Delays on Production Delays on Production Delays
At the rate that we're seeing rumors about production delays, everything on set must shut down whenever someone sneezes. The most recent are centered on Harrison Ford's broken leg, with multiple outlets claiming that the whole film has been shut down until he returns to set, which either overestimates how much screen time Ford will have or underestimates the importance of sticking to the December 2015 release date.
The Harrison Ford Heritage Award for Replacing Harrison Ford: Robert Pattinson
It all started when the Internet had a breakdown over the possibility of Pattinson playing Indiana Jones in a reboot of the franchise. Then, when Ford got injured, it was rumored that Pattinson would take over the role of Han Solo so that production wouldn't have to be – you guessed it – delayed. This one was quickly debunked though, as nobody with eyes would every believe Pattinson and Ford to be the exact same person.
Most Disappointing Debunking: Oscar Isaac's Role Will Be Expanded
Pattinson wasn't the only person to get swept up in the frenzy surrounding Ford's injury; Isaac's character was rumored to have been expanded in order to fill story time to avoid – all together now! – more production delays. Unfortunately, Disney quickly refuted this one, showing us great possibilities before cruelly yanking them away.
Most Morally Ambiguous: Adam Driver: Hero or Villain? 
Because so many details are still under wraps, we don't know anything about the characters that the new cast will be playing, which makes it easy for conflicting reports to cast the same person in different roles. When Driver first came on board, it was to play a villainous role, but by the time the rest of the cast was added, he was rumored to be playing the son of Han and Leia. Now, he's back on the dark side, playing one of the Jedi Hunters terrorizing the heroes. At this point, it's probably best to just imagine him as a double agent.
Biggest Potential Style Inspiration: Lupita Nyong'o, Villainess
Perhaps no actress in recent memory has become a style and beauty icon as quickly as Nyong'o. She can pull anything off, and does so in a way that almost convinces you that you can wear the same thing. So when reports surfaced that she was playing a villain with yellow eyes, the world's immediate reaction was basically "Hey, do you think I'd look good with yellow eyes?" You probably won't. She definitely will.
Most Highbrow: David Cronenberg Approached to Direct Spinoff
The Star Wars rumor mill doesn't just affect Episode VII, but has come to encapsulate the spinoffs as well. Though the first two have been handed off to their respective directors, Cronenberg was reportedly approached to put his own spin on the Star Wars universe, an offer he almost immediately declined. Maybe all those Pattinson rumors inspired Disney to reach out to him?
Most Absurd: Tom Cruise Will Be Making a Cameo
If you're Tom Cruise and you meet up with Mission Impossible III director/producer JJ Abrams, the only logical reason is to plan a cameo in Episode VII. Your meeting couldn't possibly be about the Mission Impossible franchise, or the numerous films you have lined up, or even just a chance to catch up on each other's lives. Nope, you're definitely going to be in Star Wars.
Most Surprisingly Awesome: Tom Cruise Will Be Making a Cameo
Did you see Edge of Tomorrow? Slightly dickish, alien-fighting Tom Cruise is the best Tom Cruise of all.
Obi-Wan's 'These Are Not the Droids You're Looking For' Award For Deception: The Millennium Falcon
Of all the rumors on this list, none was stuck down faster than that of the reappearance of the Millennium Falcon, which was spotted in leaked photos from the set. In response, Abrams leaked a photo of his own, denying that the Millennium Falcon had ever graced the set… from what appeared to be the inside of the Millennium Falcon itself. Still, once they saw it, the press simply nodded and allowed him to go about his business.
Least Likely To Have Been Double-Checked On IMDB: David Oyelowo Will Play a Villain
Buried in the reports that Nyong'o and Driver are going to play villains was a brief mention about the third Jedi Hunter, supposedly played by David Oyelowo. There's only one problem: Oyelowo was never cast in Episode VII, nor was he ever rumored to be part of the cast. Clearly someone needed to do a quick Internet search before writing up the latest rumor/report/hearsay from the Episode VII set.
Most Likely To Be Used As Punishment: Jar Jar Binks Is Back
Every so often, when Star Wars fans start complaining too much or the press gets a little too invasive, one name appears, like an omen of despair: Jar Jar Binks. Do we actually think that he'll pop up in the film? Probably not, but we do enjoy watching fans react to his name in much the same way the wizarding world did whenever Harry Potter said "Voldemort."
Rumor Mill MVP: Boba Fett 
Try and find a single plot, casting, set design, or spinoff rumor that doesn't mention Boba Fett in any way. You probably can't do it. He's practically become the new main character of the Star Wars franchise. When the inevitable remakes come along, you better believe they're going to be all about Boba Fett.