John Williams Wants to Return for 'Star Wars' Sequels, But Should He?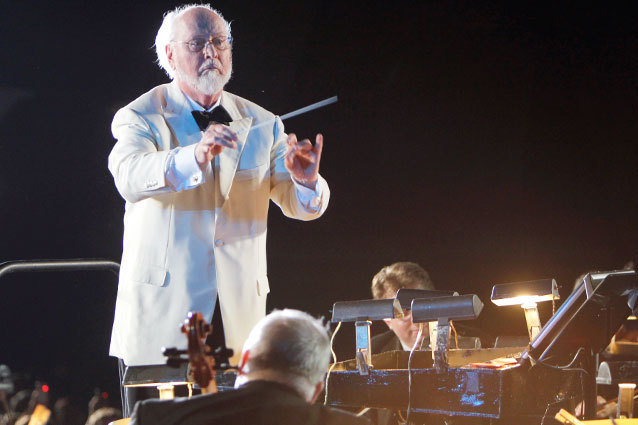 Every time you think "Darth Vader" and hear the iconic "Imperial March," you can thank John Williams. When you envision Luke, Han, Leia, and Chewy standing triumphantly before legions of cheering rebels and you hear the Star Wars theme song, you can thank John Williams. And even the times in which the Mos Eisley Cantina song is invoked for a quick little joke or reference, you can thank John Williams. His music elevated the original Star Wars trilogy from a revolutionary expedition in sci-fi, to a sweeping, epic journey that would affect generations. So naturally, the Oscar-winning composer assumes he's coming back for Disney's planned sequels.
RELATED: Harrison Ford Back for Star Wars Sequels
During a concert last week, Williams introduced the Star Wars theme song by waxing poetic on the surprise success of the theme and the films themselves. "Now we're hearing of a new set of movies coming in 2015, 2016…so I need to make sure I'm still ready to go in a few years for what I hope would be continued work with George [Lucas]," he said, according to a fan blog uncovered by ComingSoon.
The problem is "George" isn't the one helming the new films, as we know J.J. Abrams has taken on the monumental task of guiding the sequels and he may not look to the past when it comes to scoring the new movies. The question that remains now is: will Abrams work with his go-to composer Michael Giacchino this time? Or will he bend to the whims of history and bring back the classic musical accompaniment by Williams? 
RELATED: Star Wars Sequels Include Stand-Alone Yoda Movie?
Abrams' direction will undoubtedly bring an altered feel to the new films, despite famliar faces like Harrison Ford reportedly returning. No matter how we slice it, the new films will be "new Star Wars." Perhaps it's appropriate that the music is new too?
Still, it seems almost impossible to imagine any Star Wars film heading to the big screen without the musical boost of Williams' sweeping compositions. Could fans get on board with a soundtrack without Williams?
[Photo Credit: John Raoux/AP Photo]
---
From Our Partners: 

'Groundhog Day' Cast: Where Are They Now?

Bradley Cooper Dancing Is Surprisingly Awkward