Steve Carrell Goes Dark for 'Foxcatcher'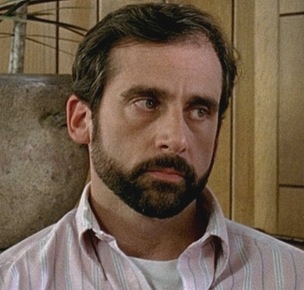 If you were catching up on The Office last night and the thought, "I wonder what Steve Carrell is doing now that he's off the show?" you now have the answer. And it's quite shocking.
Carrell is teaming up with Moneyball director Bennett Miller for Foxcatcher, the story of millionaire Jon du Pont, who was theorized to suffer from paranoid schizophrenia and went on, at the age of 59, to murder Olympic wrestler Dave Shultz. The role is quite a stretch for Carrell, whose comedic background isn't an obvious fit for the tortured du Pont, but definitely an interesting choice.
Foxcatcher was written by E. Max Frye and Dan Futterman, the latter nominated for an Oscar for his last collaboration with Miller, Capote. How much of du Pont's life the film chronicles is unknown, but as a member of the Philadelphia elite and enthusiast of many a hobby, the man's life is a peppered with material screaming to be woven into the biopic's scope.
Foxcatcher (a reference to du Pont's farm) is set to shoot this March, meaning we could see Carrell's grand performance sometime in 2012.
Source: Variety