Steve Martin and Alec Baldwin to Star in Comedy Inspired by 'SNL' Rivalry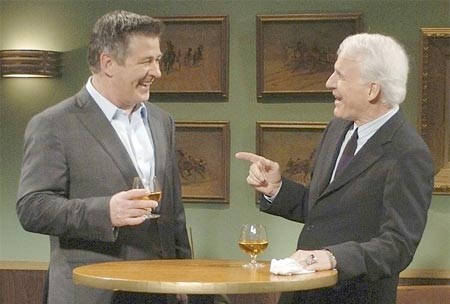 It's starting to feel like Steve Martin and Alec Baldwin do literally everything together.
They hosted the Oscars together. Martin has guest starred on Baldwin's series 30 Rock. They're in a perpetual Saturday Night Live hosting gig competition, continuously trying to show each other up. You can say this of their relationship: it's complicated. But they've apparently grown quite attached to one another over the years. And now, director Adam Shankman will once more reap the benefits.
Shankman produced the 82nd Academy Awards, of which Martin and Baldwin played co-hosts. The producer/director is now working on a new film to star both comedians. According to Deadline, the movie will borrow its theme from classic two-men comedies like Trading Places and Grumpy Old Men, and that the whole idea was inspired by Martin's surprise appearance during Baldwin's opening monologue on the SNL season premiere two Saturdays ago. The appearance was fueled by Martin's unwillingness to submit the title of SNL's most recurring host to Baldwin.
This will probably not take any sort of advertizing. Who doesn't love both Steve Martin and Alec Baldwin? Someone, maybe. But not someone I know. Not someone I'd trust, either.
The men have a comic chemistry that can only be borne from a mutual professional respect and a longstanding personal friendship. This is perhaps the most pleasant development to come out of Hollywood in years. Make it happen, gentlemen. Make us laugh.
Source: Deadline