Steven Soderbergh Sheds Light on Upcoming 'The Bitter Pill,' 'Liberace' and His Retirement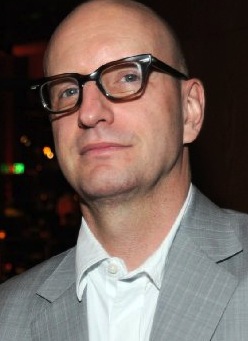 Having the opportunity to sit down with an acclaimed director like Steven Soderbergh (the man behind sex, lies, and videotape, Out of Sight, Ocean's 11, The Girlfriend Experience and last Fall's Contagion) is a dream come true. But pending an hour with the man, discussing his latest movie Haywire, his creative process and lengthy career? Let's just say that by the halfway mark, I was pretty much lost in the mesmerizing honesty and passion of the conversation.
While I'll be posting selections from the full conversation with Soderbergh next week, the director did offer up a few interesting tidbits on his future, including info on his next collaboration with Contagion screenwriter Scott Z. Burns, The Bitter Pill, and his Liberace biopic for HBO Behind the Candelabra and a definitive response to the "will he/won't he?" mystery surrounding his retirement.
A discussion on casting MMA fighter Gina Carano segued to a conversation on working with female characters, a relevant topic to Soderbergh's next project. "There's something more fun about it. Things are harder for them. Men run everything. They have another thing to deal with that we don't have to deal with. From a directorial standpoint that's fun. There are a couple of great female characters in the film we're doing this Spring, The Bitter Pill."
The movie, which Soderbergh revealed shoots in April, follows a woman who finds herself hooked on prescription drugs in the days counting down to her husband's release from prison. Soderbergh explained his stylistic approach: "I'm in the middle of trying to figure that right now on Bitter Pill…I've been watching [William] Friedkin and Adrian Lyne."
Behind the Candelabra, which is set to star Michael Douglas as the famed singer Liberace? "I haven't gotten there yet…Douglas Sirk. [Laughs] "
Of course, conversation eventually drifted towards the director's impending departure from the cinematic world. Even though he had a great experience working on Haywire, don't expect a Gina Carano/Soderbergh reunion in the future ("For me, there's nothing I have coming up that I could really put her in." ). So what is next?
"I need to tear down my process and start over again—if I'm going to come back. I'm not going to come back unless I found a new way to do this. By my definition. I don't know if that's going to happen or not. A year from now, I'll be done.
"I was planning this before [the release of Che]. When Section 8 [Soderbergh's production company] closed, I wanted to be out. It was a series of things all leading to me feeling like I need to change. I need a radical change."
But Soderbergh isn't planning an extended vacation: "I have ideas for other things that aren't movies. Whether they're painting, photography or books. I'd like to do one more book, so I've been working on that. Another film book.
"It is rare that filmmakers that make their best films late. It's not unheard of—[Luis] Buñuel, John Huston—but it's certainly something I don't want to happen to me. The primary reason is feeling frustrated at my knowledge being at a standstill. I feel like there's another kind of movie out there and I need to figure out what it is."
But the Liberace movie isn't really the last hurrah…right?
"I'd bet. You should put money on it. Don't bet against me."
Look for our full interview with the Haywire abutter next week and head to CinemaBlend for new info on Soderbergh's next movie, the Channing Tatum male stripper flick Magic Mike!
="font-style:>