Steven Spielberg & John Williams Write the Music to 'E.T.', Blow Our Minds — VIDEO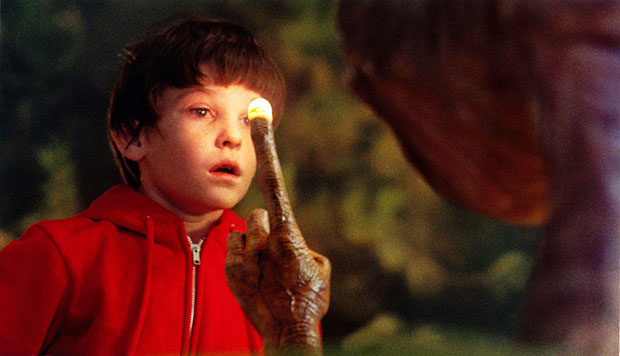 It's hard to imagine that the magic of a classic Steven Spielberg film — the terror of Jaws, the majesty of Close Encounters, the glowing love of E.T., or the jaw-dropping reality of Jurassic Park — actually starts as mishmash of raw, tangible ideas. Like a Roman statue, each section of a movie is chiseled away at until it finds its picturesque form. That's Spielberg's talent: seeing the pieces and molding them together into something that we'll keep watching on TNT weekend after weekend until the pixels on our TVs burn out.
Below is the perfect example. Courtesy of the recent E.T. The Extra-Terrestrial Blu-ray comes some imperfect footage of the master of blockbuster cinema collaborating with his longtime composer John Williams on the score for his beloved sci-fi film. Together, they sit at a piano, bang out some notes, and turn to their Moviola (the machine used to edit films before the advent of computer technology) to see how the scenes would play. The glimpse into the process is its own kind of magic, pulling back the curtain on the thinking that led to one of the best movies of all time. So that's how it works!
Watch the video below then do your own bit of E.T. gushing below.
Follow Matt Patches on Twitter @misterpatches
[Photo Credit: Universal Pictures]
More:
'E.T.' Behind-the-Scenes Footage Reveals Actor Originally Cast as E.T. — EXCLUSIVE VIDEO
'E.T.' 30th Anniversary: The Sequel That Never Was and Three Decades of Cameos
How Steven Spielberg's Daddy Issues Influenced Every Film from 'E.T.' to 'Lincoln'