Stiller and Murphy Turn Criminals in the 'Tower Heist' Trailer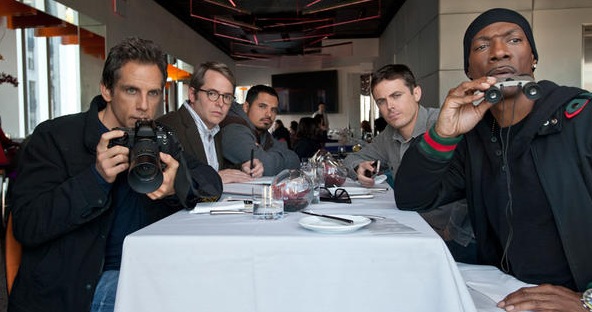 The first trailer for Tower Heist may remind you of the stylish George Clooney/Brad Pitt Ocean's 11—but that's not be a bad thing. Director Brett Ratner, the brain behind the Rush Hour trilogy and X-Men: The Last Stand, takes the time-worn concept and spins it with a blue collar flair, enlisting a ragtag team of funny people to make it all click.
Ben Stiller, Matthew Broderick, Casey Affleck, Michael Pena and Gabourey Sidibe (Precious) play the staff of a Trump Tower-esque apartment building that find themselves at the wrong end of a Ponzi scheme, with veteran Alan Alda playing the Bernie Madoff-esque swindler suddenly under heat and confined to his multi-million dollar pad. When they discover the man's sitting on $20 million worth of cash, the group enlists the help of expert thief Eddie Murphy to help them pull of a seemingly impossible task: take revenge by stealing the old man's moolah.
Ratner doesn't get much love from critics for his often "simple," uninspired approach to filmmaking, but Tower Heist looks like a step up. It's hard not to get pumped seeing Murphy tackling adult material again, after a string of kid-centric flubs and a lingering bad taste from Nutty Professor movies, and pairing him with Stiller seems like the perfect match. Ratner makes the jokes work here and, in the end, that's what it's all about! Stealing things and laughing.