Stretch Armstrong Film Reaches (Reeeally Far) for Breck Eisner to Direct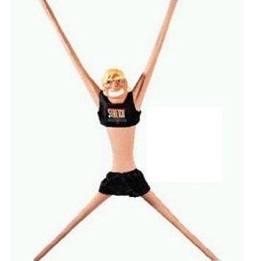 If any one of your childhood heroes deserves his time on the big screen — more than Superman, Batman, Spider-Man, Iron Man, or even Manfred Mann — it's Stretch Armstrong: the elastic defender of justice first delivered to the world in the form of an action figure. With powers similar to that of Fantastic Four's Reed Richards, the DC Universe's Elongated Man, and Quality Comics creation Plastic Man, Stretch Armstrong has used his malleable musculoskeletal makeup to save the world from whatever force of evil your younger self decided he'd logically fight. Shin-splints, maybe.
The Kenner Products character has been discussed for some time as a viable candidate for a feature film; the project now has a director: Breck Eisner, son of Disney's former chief executive officer Michael Eisner, and director of films like Sahara and The Crazies.
Hollywood.com has learned that the story will focus on a new character, an ordinary man named Lucas Armstrong who undergoes a supernatural transformation to become the lithe crime fighter.
The Stretch Armstrong toy line involved other characters, including Stretch's dog Fetch Armstrong and the villainous creature Vac Man (whom you had to inflate via a bike pump to power up), among others. For what it's worth, the latter always seemed more misunderstood than he was genuinely evil… but that's just my take on how this story could manifest.
The film is scheduled for an April 2014 release.
[Photo Credit: Kenner]
More:
Chris Hemsworth May Be in for Steven Spielberg's 'Robopocalypse'
Jessica Biel Bails on 'The Wolverine,' a Superhero Movie That Can't Get a Break