Strong Super Bowl Box Office Weekend!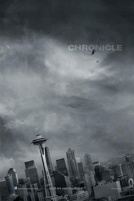 Fox's action horror drama "Chronicle" opened much better-than-expected and drew young moviegoers (61% under 25 – 55% of the audience was male, 45% female) to this story of a group of high school friends who after a strange discovery realize that they suddenly have gained superpowers. The PG-13 film had a solid Super Bowl weekend debut of $22 million with $8.625M on Friday, $10.2M on Saturday and an estimated $3.175M on Sunday. A $12 million budget makes this a real Super Bowl winner.
CBS Films opened their super creepy haunted house tale "The Woman in Black" starring Harry Potter's Daniel Radcliffe in his first movie since the final installment of that massive franchise. The PG-13 film boasts enough jump-out-of-your-seat moments to satisfy even the most hard core horror movie fan and debuted with a much stronger-than-expected $21 million. Female fans in particular were drawn to the film and its gothic setting and of course to the very popular Radcliffe in the lead role. The PG-13 film had a strong Super Bowl weekend with $8.3M on Friday, $9.545M on Saturday and an estimated $3.155M on Sunday. This is the best opening weekend for CBS Films(previously The Back-up Plan, $12.2M)and with a pick up cost of only $3 million, this is a great result for the film.
Open Road's "The Grey" enters its second weekend with strong mid-week numbers under its belt and earned a solid $9.5 million for the weekend. Debuting with a better-than-expected $19.7 million last week, fans of star Liam Neeson keep coming out in big numbers to see the 59 year-old actor doing what he does best in this R-rated action adventure which has earned $34.75 million to date.
Universal will made a splash this weekend with their PG-rated family film "Big Miracle" starring Drew Barrymore and John Krasinski. Set in small town Alaska the film follows the story of a news reporter and his former girlfriend who is a Greenpeace volunteer on a mission to save a family of gray whales trapped by ice in the Arctic Circle. A nice option for non-sports minded members of the family this Super Bowl weekend, the film performed as expected with an $8.5 million debut.
Sony's Screen Gems "Underworld: Awakening" in 3-D took fifth place with $5.6 million in its third weekend of release and a total of $54.3 million in the North American blood bank.
An incredibly strong weekend at the box office continuing the string of "up" weekends in 2012 propelling revenues up nearly 14% over last year at this time. This was also one of the stronger Super Bowl weekends at the box office bringing in an estimated $119 million (up a whopping 36% over Super Bowl 2011) for the overall period and impressively the top 2 films rank now among the top 6 Super Bowl opening weekends of all-time.
Weekend Box Office (Estimates)
Top Movies for Super Bowl Weekend of February 3, 2012
Movie Weekend Gross Total to Date
1 Chronicle (PG-13) $22.0M $22.0M
2 The Woman in Black (PG13) $21.0M $21.0M
3 The Grey (R) $9.5M $34.75M
4 Big Miracle (PG) $8.5M $8.5M
5 Underworld: Awakening (R) $5.6M $54.35M