Summer comes early this year with 'Fast Five!'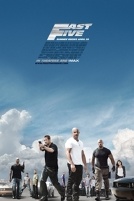 Universal's Fast Five, the fifth installment of the massively successful Fast and Furious franchise is about to hit the streets and is poised for the biggest opening weekend of the year thus far.  An expected $70 million plus will easily give the film pole position this weekend on the box office chart.  This latest Fast and Furious takes the classic formula and turns up the heat with a reunited cast and the addition of Dwayne The Rock Johnson and a spectacular heist-drive plot that will send audiences into a frenzy this weekend.
THE FAST AND THE FURIOUS FRANCHISE OPENING WEEKENDS       
TITLE                                                                           OPENING
FAST & FURIOUS (2009)                                                $70,950,500
THE FAST AND THE FURIOUS: TOKYO DRIFT (2006)     $23,973,840
2 FAST 2 FURIOUS (2003)                                             $50,472,480
THE FAST AND THE FURIOUS (2001)                              $40,089,015
Fox's Rio continues to draw audiences around the world and in the wake of a stunningly successful Easter haul, should wind up in second place with just over $15 million in its 3rd weekend of release.  The family-friendly film has continued to do solid mid-week business and will fly past the $100 million mark by Sunday night.
Lionsgate's Tyler Perry's Madea's Big Happy Family is likely to take the third spot in its second weekend with around $15 million.  Perry's box office track record speaks for itself with this, the latest of his Madea-themed films, earning $25.1 million in its Easter weekend debut.  Perry has a massive and loyal following and a modest drop this weekend should put him squarely in the Top 3.
Fox's Water for Elephants stars Twilight's Robert Pattinson as circus veterinarian reminiscing about his life during the Great Depression.  Strong word-of-mouth and a devoted female fan base should keep the film in the box office hunt for weeks to come and give it a 4th place finish this weekend with a gross in the low teens.
Disney's PG-rated teen comedy Prom is a terrific counter-programming alternative to the decidedly more intense Fast Five.  Pre-teens and teens will be drawn to the fun subject matter while the studio will be happy with the result given the modest production budget of the film.  However, another PG-rated film Hoodwinked Too! Hood vs. Evil in 3-D from Weinstein Co. will battle Prom for the 5th place spot as both films are poised to earn in the $7 million to $9 million range.
As powered by Fast Five, the third consecutive up weekend at the box office will give us great momentum as we head toward the first weekend of the summer movie season.