Sundance 2011: Anne Heche Finds Her Inner Midwesterner In 'Cedar Rapids'

How do you turn a dry setting like an insurance sales conference into a lively comedy? Fill it with A-list talent. That's exactly what director Miguel Arteta did when he recruited his ragtag cast of Cedar Rapids, mixing the straight-laced comedy of Ed Helms, the demented zingers of John C. Reilly, the reserved sensibilities of Wire co-star Isiah Whitlock Jr. and the grounded keystone of the bunch: Anne Heche.
Heche is a chameleon in Hollywood, bouncing from comedies to dramas and never losing her footing. Finding realism in unlikely scenarios is her approach and listening to her experiences from the set of Cedar Rapids, it wasn't too difficult to embody the simple world of the American Midwest:
How is working with this group of guys? With a movie that relies on its group dynamic there must have been some serious bonding off screen.
So much fun. It really is. John [C. Reilly], I'm obviously a huge fan of it. Ed [Helms] I didn't know so much – but it was a real joyous atmosphere. John really keeps you cracking up as much as you can imagine. The dirtier and nastier he got, the dirtier and nastier his character got. But when you're doing a character like that you tend to fill the room that kind of energy because you have to have it to give to the character. He was a riot.
It was fun. We joked about that shot and Miguel to his credit, one of the things people love is how real it is. This could happen. These are 4 people that could meet. It does look like an insurance convention.
The dialogue in Cedar Rapids rolls off the tongue. Funny, but also realisitic. Did you find there was wiggle room to play and deliver off the cuff dialogue?
Very much so, but everybody said the script was written so beautifully. These characters are very clearly drawn, the jokes were very funny. Everyone was so thrilled to do the script because it was so hilarious on the page. Of course it comes alive in different ways and that camaraderie became something very comfortable that we felt like exploring. i think we really did feel like four buddies.
The film also captures an unexplainable essence to the Midwest through its visuals and characters. Did you have experience living in place like the small town your character comes from?
I was born in Ohio, I grew up in this little town called Aurora. As Miguel [Arteta] said, he wanted to honor it. I think most of us were from the midwest, including Alexander Payne [director of Sideways], the producer. I think we wanted to honor it and respect the boundaries that Midwesterners seem to live with. This movie didn't go to the extremely outrageous.
It wasn't a caricature.
Exactly, it wasn't. And it's all due to Miguel, and he was very much a supporter of keeping these people in the world they are in.
You don't want to make fun of any of it. You want to love them. I think that's where it came from for all of us, we were all playing really true people that we liked who were in their own way complex. My woman is a mom and a wife and she takes off and its her wild weekend, shes still a mom and a wife, shes not a wildcat. When i first read it, she was the oak box, she was drawn very wild. But her party is a step away from her mom. its not a wild and crazy and i think that served it well. but i think everyone worked a steps away from themselves
Were there things on set that helped you realize that simplicity, the nature of your character?
The costume designer and I worked together. We designed the first outfit where i come into the bar and see my old friends and for the first time connecting, and for the first time you see her as an "old fox." The moment of who is this woman and 'is she wild and redheaded?'
We had on this outfit that had a flouncy skirt, not too much but a little kick to the hemline. And it was absolutely…not. Pencil skirt, button up sweater. And it was my first clue. Miguel wasn't in the same city, he was prepping and i got a phone call from him and they sent him a digital picture, what do you think of this, and he said, 'Wait, wait, wait, let's keep her in a plain grey business suit.'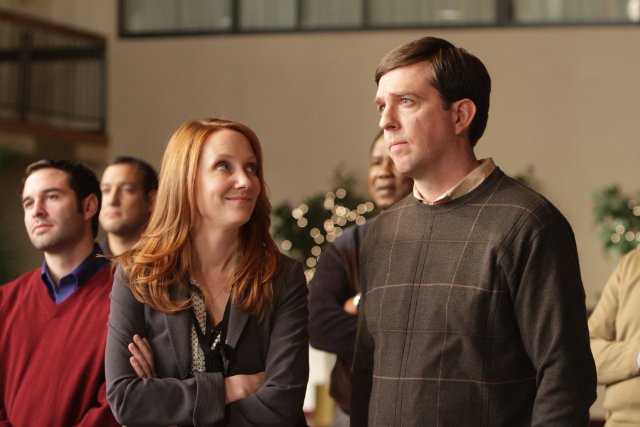 Was the film actually shot in Cedar Rapids, Iowa?
No, it was in Anne Arbor, Michigan. Did you hear the story about how they were supposed to film in Cedar Rapids?
Oh, no!
Yeah, there was a scandal with the film commission. And the film commissioner took off and bought these SUVs with the money that people had given for the film so the whole office shut down. And they were in pre-production. Like a lot of SUVs and he was discovered. They had to move someplace else. They shot all the exteriors in Cedar Rapids.
So not many films will be shooting in Cedar Rapids.
Well that was a year ago, they might have straightened everything out!