Sundance 2011: 'The Woman' Is the Bloody Fun Version Of 'My Fair Lady'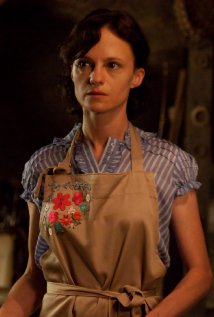 When it's all said and done, one of the most horrifically memorable moments of Sundance 2011 will be the obnoxious naysayer at the opening night screening of The Woman. Director Lucky McKee was on hand for a Q&A, which got off to a bad start when a now infamous (and nameless) gentlemen stood up and fired away. It wasn't much of a question, but instead, a pointed rant, telling off McKee and denouncing the off-the-wall film as both degrading to men and women.
Security quickly stepped in to haul the man out of the theater, but not because of his extreme reaction. Rather, the Sundance squad was more worried about the audience…retaliating.
The volatile opinions aren't surprising – if McKee's Woman finds distribution, audiences will be divided. This isn't your typical horror movie: during a hunting trip, Chris discovers and captures a beastly woman covered in dirt and eating raw fish out of a stream. He brings her home to his family, where he chains her up and prepares to make her a sophisticated, real woman.
Replace blood-thirsty female savage with English slum with a thick cockney accent and you almost have My Fair Lady!
And that's what makes the ranting man's claims so mind-boggling. McKee splashes his canvas with over-the-top acts of misogyny and violence, so when Chris tortures The Woman or punches his wife or takes a parent-teacher conference a step too far, you're supposed to be shocked, appalled and losing your mind. It's a bold move and from start to finish McKee never lets up. If a character punishes a woman, they too will be punished (even if you're a woman).
What probably scared ranting man most was how everyone in the theater screamed, laughed and thoroughly enjoyed the hell out of the movie. The Woman is cleverly crafted pop cinema with a hard message. If Quentin Tarantino can make Inglourious Basterds, a popcorn flick about Nazi Germany, why can't Lucky McKee spin Pygmalion into a gory good nightmare?