Sundance 2013: James Franco's BDSM Porn, Drunk Policemen, and More — TRAILERS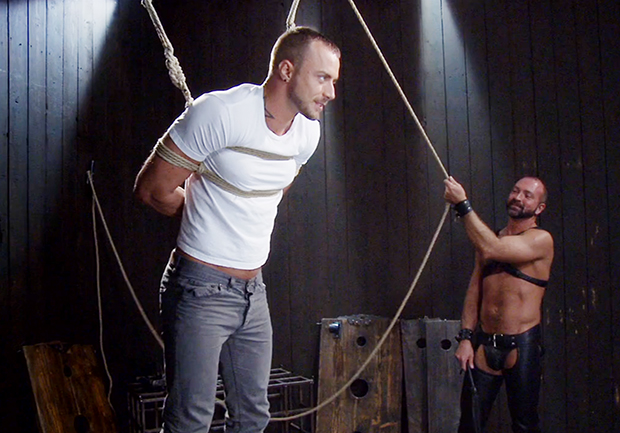 This year's Sundance Film Festival has only just kicked into gear, and has already launched some of the more interesting, and some of the strangest, prospects for the future of film. The Park City celebration of cinema has hosted several trailers for upcoming projects, with the trifecta of edgy subject matter: topics range from BDSM pornography (sex), to inebriated law enforcement officers (drugs), to the musical majesty that is Muscle Shoals (rock and roll). Check out a small collection of some of the trailers Sundance has yet to debut!
Kink
Notable creative forces: James Franco (producer)
Premise: This documentary explores the lives and work of the men and women who run the BDSM fetish website kink.com, pulling back the curtain on a subculture that, even in the pornography industry, is considered taboo.
Wrong Cops
Notable creative forces: Quentin Dupieux (writer/director); Marilyn Manson, Eric Wareheim, Grace Zabriskie, Ray Wise (actors)
Premise: The offbeat filmmaker behind oddball features like Rubber, Nonfilm, and Wrong delivers a story about a gang of incompetent, amoral police officers who aim to cover up an accidental shooting.
Muscle Shoals
Notable creative forces: Aretha Franklin, Mick Jagger, Keith Richards, Bono, Alicia Keys, Steve Winwood, Jimmy Cliff, Wilson Pickett, Percy Sledge, Gregg Allman (featured subjects)
Premise: A celebration of Muscle Shoals, Ala., from where record producer Rick Hall's FAME studio launched new waves of music as well as countless artists throughout the 20th century.
[Photo Credit: RabbitBandini Productions]
More:
Sundance 2013 Line-Up Sports Daniel Radcliffe, Rooney Mara, Jessica Biel, and More
'Spring Breakers': Selena Gomez in the Darkest Damn Movie You'll Ever See — TRAILER
'Mud': Matthew McConaughey Might Be a Crazy Vagrant… Kind of Like Real Life — TRAILER
Sundance Post-'Beasts': The Festival Is More Important Than Ever

100 Hottest Women of the Century: Do You Agree?