Sundance Darling 'The Way, Way Back' May Not Be the $10 Million Hit Everyone Thinks It Is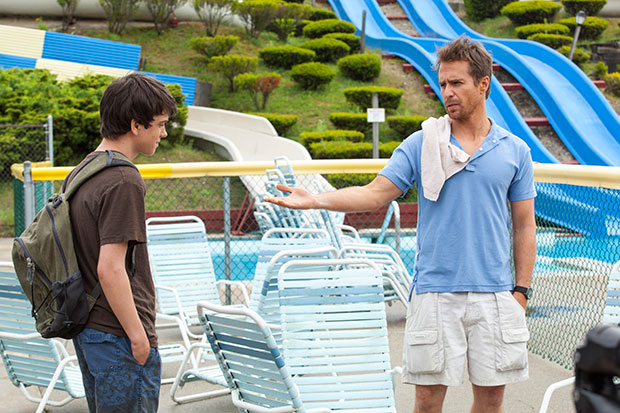 There are many things about a movie that will get people at Sundance talking: a celebrity doing something risque, a script so bad it makes people laugh, or a performance that's so revelatory that prognosticators are already putting it down for the 2014 Oscar short list. But there is one thing that will make people talk like nothing else: money. Coming of age story (yes, real original for Sundance) The Way, Way Back got on everyone's lips only after it was bought for $10 million by Fox Searchlight (extraneous comma and everything) after only one screening.
But did they overpay? In my opinion, possibly. The movie is getting a lot of comparisons to former Sundance darling Little Miss Sunshine, which was also acquired at the festival for $10 million seven years ago (God, we're getting old). That film went on to make $60 million at the box office and earn two Oscars and four nominations. But just because both movies are indies about quirky kids in bad family situations, and costar Toni Collette and Steve Carell, does not make them the same. in fact, Sunshine is not only more interesting and original, but also better.
That's not to say The Way, Way Back is bad. It's fine. It's a good little movie, but one that you've seen before. It's like Adventureland with waterslides and better actresses than Kristen Stewart. Broody teen Duncan (Liam James) is forced to leave Albany to spend a summer at the shore with his mother (Collette) when her new boyfriend (Carell) invites them to his beach house for a few months. Sick of life at the house, Duncan ends up skulking around a water park until the wisecracking charismatic owner (or maybe manager, it's never made clear) Owen (Sam Rockwell) gives him a job. Of course he comes out of his shell, and his life changes dramatically, and he finds who he is as a person, and blah blah blah.
The cast is quite good. Carell does an amazing job in full-on dick mode; you will absolutely loathe his character. Unlike the way you absolutely loathe Shia LaBeouf… you're supposed to hate Carell's character, so I mean that as a compliment to his performance. The supporting cast is comedy gold, including Allison Janney, Amanda Peet, Maya Rudolph, Rob Corddry, and Jim Rash, who wrote and directed along with his fellow Descendants Oscar winner Nat Faxon. This crew is worth $10 million alone.
But the problem is Liam James. And considering he's in nearly every scene in the movie, that's quite a problem. Well, I don't know if it's James or how his character of Duncan is written, but he doesn't come off so much brooding as he does developmentally disabled. I don't know if that's James' portrayal or because the character is written as such a blank slate. But the flat delivery of the character keeps you from being able to enjoy an afternoon with this kid, not to mention a whole summer.
The jokes all come from Rockwell, an underused talent, for sure, but one who was funnier in his recent dud Seven Psychopaths than he is here. There are plenty of funny moments and charm, but the movie hews closely to a formula and doesn't do much to add anything new or exciting to that formula. For a good, funny coming of age story from Sundance, you should check out Toy's House instead, which was not only more original but also, laugh for laugh, more worthwhile.
But with the right marketing campaign and all the festival buzz The Way, Way Back could be a good investment after all. Who wants to see something new and pretty and wonderful when you can see a similar movie to one you already love. That's what has been driving Hollywood for decades. Yes, Fox Searchlight's $10 million might be money well spent, but for the discerning moviegoer, they might want to save their $13 at the Cineplex for something else.
Follow Brian Moylan on Twitter @BrianJMoylan
More:
Sundance Buying Frenzy: Radcliffe's 'Kill Your Darlings,' 'Austenland' and More
James Franco Had a Lot of Sex at Sundance Last Night
Naomi Watts and Robin Wright Sleeping with Each Other's Sons Is as Creepy as It Sounds

Manti Te'O Comes Clean About Girlfriend Hoax