Sundance's 'Breathe In': Homewreckers Are the New 'Manic Pixie Dream Girls'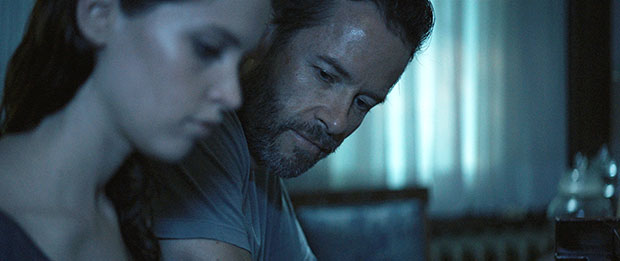 Back in 2005, writer Nathan Rabin coined the phrase "Manic Pixie Dream Girl" to describe Kirsten Dunst's character in Elizabethtown, a type of recurring female character that "exists solely in the fevered imaginations of sensitive writer-directors to teach broodingly soulful young men to embrace life and its infinite mysteries and adventures." Today, the archetype still remains, but has since sprouted new companions as the sensibilities of filmmakers adapt to the times.
If Sundance 2013 is any indication, specifically Breathe In, the new film from Like Crazy director Drake Doremus, that new variation is less all-knowing, more sharp and unknowingly seductive. Inspiring in the life-shattering way rather than the life-enhancing variety. In the film, happily married music teacher Keith (Guy Pearce) has his nostalgic feelings for the past cranked to 11 when foreign exchange student Sophie (Felicity Jones) arrives to live at his home. Feeling that his life took a wrong turn (he used to be in a rock band but now he teaches piano), Keith discovers new possibilities in Sophie's innocence and intellect. He's happy with his wife Megan (Amy Ryan) and daughter Lauren (Mackenzie Davis) but with Sophie, Keith sees a return to his happiest moments.
"The Disaffected Sexually-Charged Ingenue"? "The Spaced Out Siren Prodigy"? We may need to work on the phrase, but the fact of the matter is that it's an emerging presence in indie film.
Breathe In resembles the Sundance 2012 premiere Nobody Walks, which starred Olivia Thirlby as a promising New York City experimental filmmaker who shacks up with family friends in L.A. in hopes of completing a new short. John Krasinski played the sound designer husband, who only needed on day with Thirlby's beautiful, creative self to throw in the towel on his marriage to Rosemarie DeWitt and hook up with the 20-something. You can find similar traits in 2012's The Oranges, Leighton Meister helping to push Hugh Laurie out of his multi-decade marriage to Catherine Keener. To all men in their 40s entertaining young, female house guests: beware. It never works out.
Breathe In is a spiffier film than Nobody Walks, sporting luscious photography and a broader scope than its lower-budget counterpart, but both suffer from the dramatic emaciation of their female leads. Jones is a stunning actress — see Doremus' Like Crazy for evidence — but she merely floats through Breathe In. We see as Sophie mesmerizes Keith with her expert piano skills, we see Keith equally entranced by the glow of her bikini-clad body sunbathing by the lake, but what we don't see is any real life connection the two would make that would challenge everything Keith has ever known, so much so that he sacrifices his family for a new beginning. We're just told that's the case — the script forcing us down a path, swelling music making up for Sophie and Keith's foundationless romance. Sophie isn't a fleshed out character, she's a cinematic pawn to explore the male fantasy.
This isn't to say that the scenario of Breathe In is impossible. Relationship dramas date back to the beginning of written work — what it takes is a closer analysis. Luckily Doremus has a fantastic ensemble on his hands — Pearce is always reliable and Ryan finds a way to wake the movie up with spats of humor — but this new shade of MPDG acts as an easy out for the movie. And if it continues to be a trend, more movies to come down the line.
[Photo Credit: Indian Paintbrush]
Follow Matt Patches on Twitter @misterpatches
More:
Daniel Radcliffe Proves Himself a Star in Sundance's 'Kill Your Darlings'
Naomi Watts and Robin Wright Sleeping with Each Other's Sons Is as Creepy as It Sounds
Sundance Doc Makes Interesting Comparisons to Manti Te'o, Lance Armstrong Controversies