'Super 8' Zooms to a bigger-than-Expected Debut!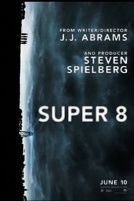 Paramount's Super 8 brings together two powerhouse filmmakers with director/wunderkind J.J. Abrams and producer/film legend Steven Spielberg collaborating on this alien epic.  One of the few non-sequel and truly original action films to be released this summer, Super 8 is a totally entertaining and frenetic ensemble teen sci-fi popcorn movie that defied all the naysayers and grabbed a first weekend gross of $37 million.  A 15% uptick on Saturday reflected great word-of-mouth on the film and will portend a solid run going forward.  Adding its customary revenue benefit is IMAX with 239 domestic screens contributing $4.4 million or 12% of the weekend gross.  Premium screens added about 4% as well.  Additionally, some 325 theaters across the country on Thursday added $1 million to the film's total domestic revenue giving it a $38 million total to date. 
Twentieth Century Fox's X-Men: First Class had a very strong second weekend dropping only 55% and drawing another $25 million for a second place finish.  A debut that generated a worldwide total of $120 million has made this 5th film in the series a worldwide success as it closes in on the $100 million mark in North America.
Warner Bros.' comedy juggernaut The Hangover Part II had another great showing in its 3rd weekend with a 3rd place finish of $18.5 million and a mere 41% drop.  The R-rated raunch-fest has enjoyed an incredible international run and has crossed the $200 million mark in North America as it simultaneously parties its way past $350 million in global revenue.
Dreamworks Animation's Kung Fu Panda 2 in 3-D from Paramount Pictures punched and kicked its way to a 4th place finish in its 3rd weekend with a $16.6 million and a domestic total of $126.9 million.  A family-friendly PG-rated film, this Panda clearly has global appeal as it closes in on the $300 million mark in worldwide revenue.
Disney's Pirates of the Caribbean: On Stranger Tides is worldwide phenomenon closing in on $900 million globally and pushing the franchise total to over $3.5 billion.  A 4th weekend total of $10.8 million gives Jack Sparrow and friends a swashbuckling North American total that crosses the $200 million mark. 
Debuting in 7th place with $6.3 million is Relativity Media's family comedy with the marquee-busting title Judy Moody and the Not Bummer Summer. 
Also notable is Woody Allen's Midnight in Paris which added 797 theaters and took in another $6.1 million as its total grows impressively to $14.2 million.
Fox's Tree of Life which has the highest per-theater average in the Top 20 with a gross of $875,000 in just 47 locations.
Unfortunately a month of up trending weekends was put to a stop this weekend with last year's comparative strong showings of both The Karate Kid and The A-Team.  The good news is that the Summer-to-date box office revenue is running 13.5% ahead of last year.
Coming this weekend is Warner Bros. Green Lantern in 3-D with midnight screenings on Thursday.
Weekend Box-Office Estimates
Top Movies – For Weekend of June 10, 2011
    Movie     Weekend Gross     Total to Date
1     Super 8 (PG13)     $37.0M     $38.0M
2     X-Men: First Class (PG13)     $25.0M     $98.9M
3     The Hangover Part II (R)     $18.5M     $216.6M
4     Kung Fu Panda 2 (PG)     $16.6M     $126.9M
5     Pirates of the Caribbean: On Stranger Tides (PG-13)     $10.8M     $208.8M