Super Hot Jovovich to Heat Up Box Office!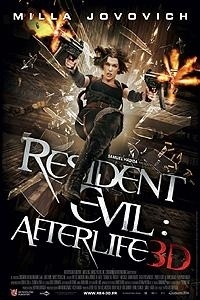 Sony/Screen Gems' Resident Evil: Afterlife 3D is set for the best debut of the series with a 3D powered gross that is likely to top the $25 million mark and could even come close to $30 million.  Star Milla Jovovich proves that the Ukraine is not only a hotbed of solid box office generating supermodel/actresses, but is also the second largest country in Eastern Europe.  Milla was married to acclaimed action director Luc Besson from 1997 to 1999 and is also a fashion designer and musician.  The renaissance woman again reprises her role as Alice, the kick ass patron saint of the undead who takes no prisoners and shows no mercy to her enemies.  The R-rated franchise has enjoyed enormous success in the September time-frame with this to become the third number one debut in the post-summer period for the lovely Milla.
In March of 2002 the first Resident Evil film opened at number two with a solid $17.7 million and was followed by "Apocalypse" in September 2004 with a number one debut of $23 million and in September 2007 by "Extinction" with yet another number one debut and a franchise topping $23.7 million.  The lack of new wide release competition, the continued appeal of the sci-fi/horror action genre and the general hotness of Jovovich should make this one the weekend winner by an apocalyptic mile.
In a battle for second place will be Focus Features' The American and Fox's Machete and with mid to high 50% second weekend drops both films may find themselves in a dead box office heat.  Additionally, Clooney and Trejo may even get some trouble from Paul Walker and the young guns of Sony's Takers which has shown incredible staying power since its release and though it will likely end up fourth, could still be in the fight for one of the top three spots even though it is in its third weekend of release.
Fifth place will add to the box office demolition derby as the third weekend of Lionsgate's The Last Exorcism and the sophomore session of Warner Bros.' Going the Distance will both try to muscle each other out of the top five in the traditionally slow post-Labor Day weekend box office contest.