Superheroes Who Need To Have Their Own Movies
Have you ever thought to yourself, "Why is Hollywood not making more superhero movies?" Well, I'm here to tell you that you're not alone. Here are five caped crusaders that have been wrongfully deprived of their own billion-dollar movie franchise.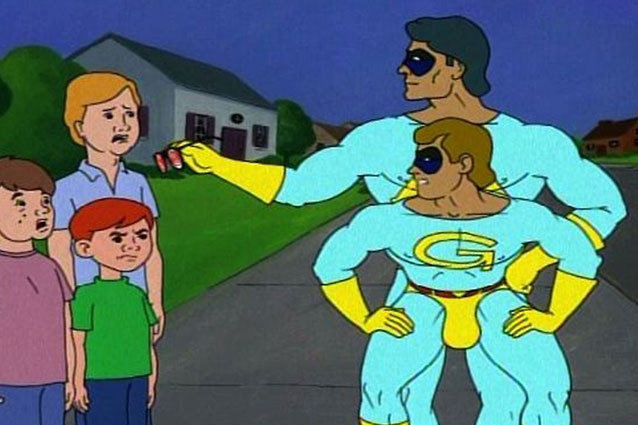 Saturday Night Live
The Ambiguously Gay Duo
It worked as a comedy bit on SNL, and if anyone has the industry pull to make it happen, it's Lorne Michaels. Plus, when you take into account that Steve Carell and Stephen Colbert voiced the characters Gary and Ace, respectively, well then, turning The Ambiguously Gay Duo into a movie is clearly a no-brainer.
Bluntman and Chronic
Let's face it, Kevin Smith's career has been in the toilet ever since he decided to pick a fight with Harvey Weinstein over the marketing of Zack and Miri Make a Porno. I mean did anyone even see Cop Out? He really needs this. 
Aquaman
If Entourage has taught us anything, it's that the superhero-deprived public is bursting at the seams to make Aquaman the highest grossing movie in the history of the universe. Look out caped crusaders, there's a new hero in town – and this one's wearing fins! 
Fall Out Boy
He may have already been the inspiration for a pretty horrible rock band from the mid-2000s, but The Simpsons  character has all the makings of a classic superhero. He's young, bookish, and is known to utter the memorable catchphrase, "Jiminy Jillickers!" Plus, I hear that Matt Groening could really use the extra scratch. 
Fartman
Now that he's a judge on America's Got Talent, Howard Stern is once again relevant. So what better way for the King of All Media to build on his recent surge in popularity then by once again donning the Fartman costume? Throw Howie Mandel in as his gassy sidekick, Fartboy, and you've got yourself a winner!
More:
7 Past Superhero Miscasts 
How Did Superman Become a Christ Figure?
'Iron Man 3' Isn't a Superhero Movie

---
From Our Partners:


40 Most Revealing See-Through Red Carpet Looks (Vh1)


15 Stars Share Secrets of their Sex Lives (Celebuzz)