Oscar-Winner Susanne Bier: 'It's Kind of Disgraceful There Aren't More Female Directors'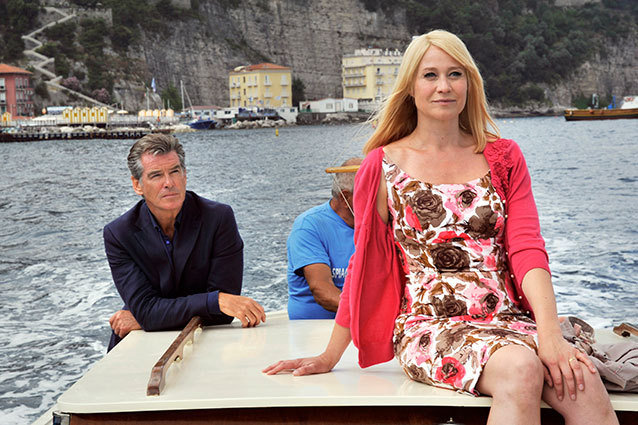 Susanne Bier's films have been described as "harrowing" (After the Wedding), "heartbreaking" (Brothers), and "an urgent and compassionate thriller" (the Oscar-winning In a Better World) so it's a bit surprising to hear the award-winning Danish writer/director describe her new film Love Is All You Need as "unashamedly romantic." 
Bier is the first to admit that the romantic dramedy is a departure from her previous line of work, which she described as "much more severe dramas." Love Is All You Need (whose Danish title is The Bald Hairdresser)— set in the stunning, picturesque Italian coast ("The location…is part of the story") — follows the luminous Ida (Trine Dyrholm, who is re-teamed with Bier for the first time since In A Better World), a cancer survivor whose husband has been having an affair, and Philip (Pierce Brosnan), a hardened businessman and widower, who met when attending the wedding of her daughter and his son. "It look a little bit of courage to be as unashamedly romantic [as this movie is]", she admitted. 
But don't think that even in a softer, sweeter movie like Love Is All You Need that Bier and her collaborator Anders Thomas Jensen shy away from looking at the big picture. "You have to really sort of appreciate what is there, while its there," Bier said of the film's overriding theme. "I think that's kind of the most important part of the film, that things don't have to be forever, but if you can embrace and recognize when there is a real emotion or real affection or real compassion and be grateful for that." 
Even more notably, in addition to being "unashamedly romantic" (which includes a swoon-worthy — or "cheeky" as Bier described it— soundtrack that includes romantic gold standards like "That's Amore") as Love Is All You Need  (which has already played at the Venice Film Festival and the Toronto Film Festival) is, it doesn't pretend to be anything it's not: it revels in its romance. "If you look at a lot of the romantic comedies at the moment…there's an intrinsic cynicism in a lot of them…[Love Is All You Need] really does believe in love and hope."
It's all very evident, considering Bier is someone who still genuinely loves making movies. "If I go home from a day of shooting and I haven't at some point felt the magic, I'm really frustrated. Even if its like ten hours of things that are not [going well], if there's just a free second where you go, 'Wow, that was amazing,' then that's why I do it." 
It also doesn't hurt when you're filming in such a gorgeous location ("[Italy] is part of telling the story") and with leads as easy to work with as Dyrholm ("She's so charming," Bier gushed) and Brosnan ("He's very generous and he's very humorous…I'm obviously biased, but I do think it's one of his most touching performances"). "This is my real talent, it's [finding]… a sense of chemistry. My favorite hobby is matchmaking," she said, adding, "It's a lot easier to do it in movies then in real life, because in real life people don't do what I tell them to do." 
Bier's keen eye for chemistry allowed her to match up Jennifer Lawrence and Bradley Cooper again, for their upcoming Depression-era drama Serena. While Bier didn't give away anything about the reunion of the Silver Linings Playbook stars, when asked if she'd ever consider exploring something else out of her wheelhouse like the big screen adaptations of YA smash The Hunger Games, she opened up about her interest in that genre. 
"I think I would be curious to do something like that," Bier told Hollywood.com. "I'm not like a careerist, I pick things that make me curious. The Hunger Games, particularly with Jennifer Lawrence… I really, really liked the first one. I think that would he hugely interesting, it's an interesting story. Depending on what it is, I would at all times go where triggers my curiosity. I think you have the excitement of climbing a big mountain every time."
But whether it's a glossier romantic comedy, a big budget action film, or a deeply personal drama, Bier — who is one of few female directors able to make their mark on the industry — put it simply, "I think I'm just trying to make the best movie I can. I don't think as a director you [should] put yourself in rules of society, you have to work according to where your artistic drive takes you. I've always been slightly hesitant about generalizing movies made by men and women being different in their nature, I think movies by each director are different. Having said that, I think that it's kind of disgraceful that there aren't more female directors."
Love Is All You Need opens in limited release on May 3. 
Follow Aly on Twitter @AlySemigran
More:
'Love Is All You Need' Trailer — WATCH 
Only 3 Women Are Directing Blockbuster Movies in 2013 and That's a Problem 
Kathryn Bigelow: Oscars' 'Best Directors' Didn't Need to Be a Boy's Club
---
From Our Partners


50 Worst Celeb Mugshot Fails (vh1)


33 Child Stars: Where Are They Now? (Celebuzz)