SXSW: Green Day Introduces 'Broadway Idiot,' Chronicling Their Trip to the Great White Way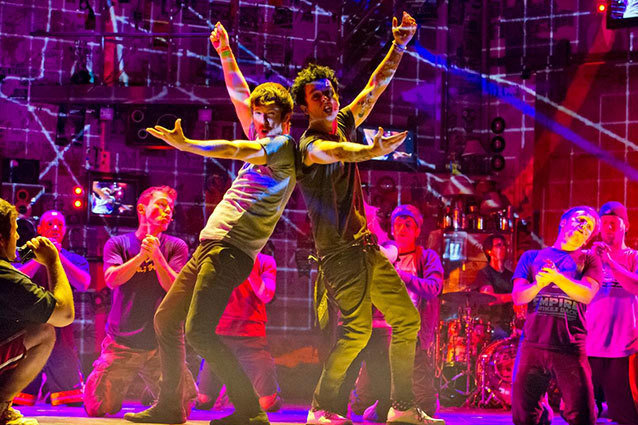 "Welcome to our nightmare." That's how Green Day, making an appearance at the Paramount Theater in Austin, introduced their documentary Broadway Idiot to a raucous and tremendously excited SXSW crowd on Friday afternoon. (In fact, of all the screenings I've been to this week, the movie and the introduction garnered the loudest reaction). 
RELATED: Tenacious D Rocks Out At SXSW
The film, making its world premiere at SXSW (as part of a double feature with Cuatro!, another doc about the band's recording of three albums), chronicles how how Billie Joe Armstrong, Mike Dirnt and Tré Cool's Grammy-winning 2004 record went from a post-9/11 statement album that took the punk rockers to a new level… to a Tony-winning 2010 Broadway musical that made a statement about post-9/11 America and took the punk rockers to a new place entirely. Up to, and including, Armstrong's own Broadway debut as the character St. Jimmy in the musical. 
Though Armstrong — who looked healthy and vibrant after recently going through a stint in rehab following his highly publicized meltdown at iHeartRadio Mustic Festival — told the crowd "Welcome to my nightmare" before the premiere of Doug Hamilton's Broadway Idiot, the Broadway-enthusiastic crowd ate up every moment of it. 
Of course, the story of American Idiot's transition from experimental album to the Great White Way turned out to be a dream come true for Armstrong, albeit one he didn't know he had. (The show, and subsequent documentary, certainly had the blessing of all three, but this is clearly Armstrong's story to tell and his investment in the project was an emotional one.)
RELATED: SXSW Review: 'Good Vibrations' is a Heartfelt Ode to Music 
As Hamilton told Hollywood.com on the red carpet before the film's premiere, "I originally thought it was gonna be this conflict of cultures, Green Day and Broadway, [but] these were artists all working together quite collaboratively. Something really interesting happened [during filming], which was Billie Joe's own engagement in the process. He says in the film that it blindsided him… he had kind of an awakening, creatively and with this community of actors that hes been waiting for his whole life." 
While the film will no doubt also touch a nerve with Armstrong's supporters, this documentary is strictly for Broadway fiends alone. That's not to say the average moviegoer won't get a kick out of Broadway director Michael Mayer or that you won't marvel at the painstaking work that went into the process for actors like John Gallagher Jr. or that even the most jaded detractor won't bob their head and tap their foot once or twice.
But the sleekly packaged, behind-the-scenes featurette works as just that and that alone. There's no major conflict at the heart of the surface level. But while Broadway Idiot  is an enjoyable show, it didn't have quite the same cultural impact as say, Rent. Nor does Broadway Idiot dive in much deeper with anyone but Armstrong. That said, scenes in which he talks about his late father or scenes that show his supportive wife Adrienne Armstrong beaming from the audience really do make you like the guy. 
"You could see that Billie was touched," Hamilton said of the musical. "There's a moment in the film where he is first hearing his music performed back in a very different way with cellos and strings and women's voices and he's on the verge of tears … It was an artist's journey into a foreign land." 
RELATED: The Cast of 'Short Term 12' Talk About Their SXSW Grand Jury Prize-Winning Film
If you're in the Broadway community, including those hardcore fans that can be found just about anywhere, including in Austin, Broadway Idiot will likely resonate with you the same way American Idiot did with Armstrong. Everyone else will wonder why they didn't just stay home and listen to the albums instead. 
[Photo credit: Paul Kolnik]
---
You Might Also Like:


15 Oscar-Winning Nude Scenes


Topanga's Revealing Lingerie Shoot: Hello '90s!