SXSW: 'Kelly + Victor' Stars and Director on the '50 Shades' Zeitgeist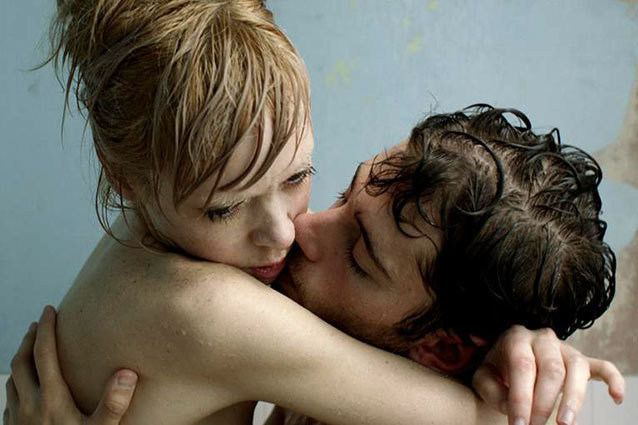 Timing, and timeliness, is everything. Especially when it comes to films. No one is more aware of that than Kieran Evans, the writer/director of Kelly + Victor, and its two leads Antonia Campbell-Hughes and Julian Morris, respectively. While their harrowing indie drama was filmed over the course of around six weeks (in what Morris described as "a hot, lovely summer in Liverpool"), it began to hit the festival circuit in late 2012 and early 2013 — including here at SXSW — right when the Fifty Shades of Grey frenzy hit a fever pitch.
RELATED: Michelle Monaghan On Her SXSW Film 'Gus' and How It Turned the Tables On On-Screen Fellatio 
So how does E.L. James soapy saga factor into Kelly + Victor, Evans' big screen adaptation of Niall Griffiths' gritty novel of the same name? Kelly + Victor follows the story of a young couple who meet at a Liverpool nightclub and begin an intense emotional and sexual relationship, one that includes S&M. But don't mistake Kelly and Victor for Anastasia Steele and Christian Grey: theirs is a thoughtful, more realistic, and ultimately tragic tale. 
That doesn't mean Evans and his stars don't appreciate the timing though. "It's been surprising," the writer/director said. "American audiences are not usually open to this kind of topic. But I think with [Fifty Shades of Grey]…maybe it's a zeitgeist thing. With taboo sex, the lid is kind of being lifted. We seem to be in the right place at the right time." 
For Campbell-Hughes, who plays the titular Kelly — a woman she described as seeing as "a puppy that keeps getting kicked… it's sweet, but it will bite back" — exploring her character's intrigue with S&M had no taboos. "I met Kieran and I knew it was going to be handled well," she said. "The rawness of it is the fact that its very honest."
 "Nudity has never really bothered me that much, but I'm learning it should more," the actress added. "It's not about how much you see, its about how it's shown. The movies that we see all the time are filled with violence and nudity, but its sort of saccharine, it's glorified, its fake, its glycerin, it's horrible." 
RELATED: 'Short Term 12' Cast Reflects on Their SXSW Grand Jury Prize-Winning Film
While Kelly and Victor's sexual relationship, one which does not shy away from realism, is a major aspect of the film, it's the emotional one that really drives the film. (And, much like 2012's sex drama Shame, while Kelly + Victor has plenty of sex, it can often be decidedly un-sexy and hard to watch at times).
That very relationship at the core of the film — which Morris (who describes his character Victor as "quite a gentle soul" who finds his outlet in Kelly, while Campbell-Hughes sees him as someone who  "gets off… on stepping into the void") likened to "obsessive love they have for each other, this frantic physicality that you get in any sort of new relationship when you're just clawing at each other" — is what drew the stars and the writer/director to the project the most. "What's interesting is the relationship between Kelly and Victor isn't about the consequences of S&M," Evans said, "It's about the consequences of what they do and what happens if two atoms collide at such a great speed. "
Another aspect that played into the film, was what Morris described as a "massive character" in the film: the city of Liverpool. "This [shoot] was really unique because to get that essence of Liverpool and the characters for it to be quite engulfing, we really lived Liverpool and the characteristics of the people. That's where the intensity was, it was everywhere in Liverpool,"Campbell-Hughes said, adding that the location is much like an analogy for Kelly and Victor's love: "Liverpool is shown as such a beautiful place, but its full of cracks." 
RELATED: SXSW Review: 'Good Vibrations' is a Heartfelt Ode to the Power of Music
The actress also described "Kelly and Victor are wanderers in their home land" and Morris himself took to wandering the streets of Liverpool to get into character, both for Victor and the city itself, by going on a pub crawl. "It was the most informative thing to me, under the slight haze of alcohol," he said. "I met the local lads, got down the dialect, [learned] the politics, just walked around." 
But, in the end, the film is not about S&M, or Liverpool, or even relationships. It is, as Evans simply said: "Ultimately the whole thing is about human needs." 
[Photo credit: SXSW]
---
You Might Also Like:


Topanga's Revealing Lingerie Shoot: Hello '90s!


Stars Who Have Lost Roles For Being Too Hot (Celebuzz)