Sylvester Stallone: The Box Office Future of Action Legends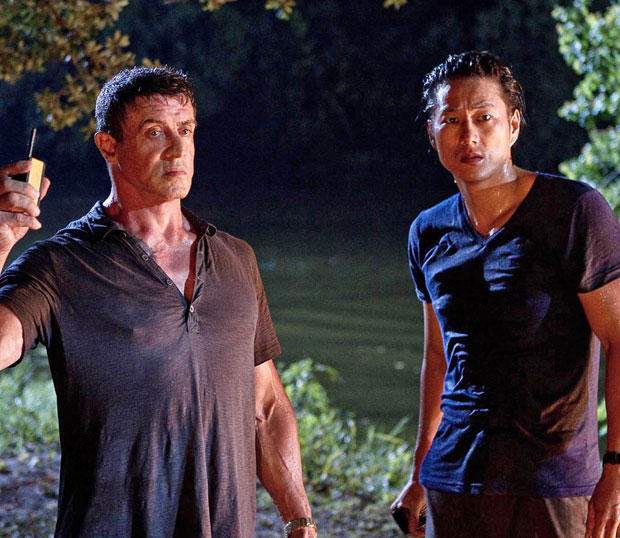 Sylvester Stallone: The star of nearly 50 movies in a career spanning 4 decades, over $2 billion in domestic box office, nearly $4.5 billion worldwide and a personal rags to riches story that is the stuff of Hollywood legend. He is indelibly identified with iconic characters such as Rocky and Rambo, has made some of the most successful action movies ever — but also made some really bad choices. Remember Stop! Or My Mom Will Shoot, Judge Dredd and Paradise Alley? Still, you have to give him credit for casting his vanity (and 5% body fat) aside for his brilliant turn as the shy and troubled cop Freddy Heflin in 1997's Copland.
And then this Super Bowl weekend, his latest action film, Bullet to the Head manages only a sixth place finish taking in a mere $4.5 million for the weekend and in the process he joins his Expendables co-star Arnold Schwarzenegger's The Last Stand (9th place debut with $6.3M) and his other buddy Jason Statham's Parker (5th place $7M debut) in action movie jail. Perhaps these guys should only make movies with each other? Expendables 3 anyone? At least the first installment released in 2010 gave Stallone the biggest opening weekend of his career with an impressive $34.8 million and Expendables 2 delivered a solid $28.6 million in its 2012 launch.
To be fair, the first 32 days of 2013 were not kind to R-rated action movies in general with Gangster Squad (a 3rd place debut of $17.1M) and Broken City (a 6th place debut of $8.3M) also taking a punch to the fiscal solar plexus in the time frame. Furthermore, Super Bowl weekend was tough on pretty much everyone this weekend with one of the slowest such time frames on record. On the other hand, we can't just blame it on the time of year. For example, last year's $24.3M/$28.5M 4-day January MLK weekend debut of Mark Wahlberg's R-rated action yarn Contraband which impressively earned nearly $70 million in North America.
So we say it is time for Bruce Willis as John McLane to save the day and redeem his action star brethren and prove that the genre is not dead on Valentine's Day when A Good Day to Die Hard will hopefully open like a good old-fashioned R-rated action movie should: with a bang, not a whimper!
Follow Matt Patches on Twitter @misterpatches
[Photo Credit: Warner Bros. Pictures]
More:
Super Bowl Weekend: No Box Office Touchdown
Attention, Hollywood: Let Jason Momoa Take Over for Stallone and Schwarzenegger!
'Bullet to the Head' Cast Gushes Over Stallone Between Takes
---
You Might Also Like:

Biden? Ford? Surprisingly Hot Young Pics of Politicians

Who Wore This Crazy Hat?

Stars Who Changed Their Look After Love