'Take This Waltz' Trailer: Michelle Williams Dances Around Infidelity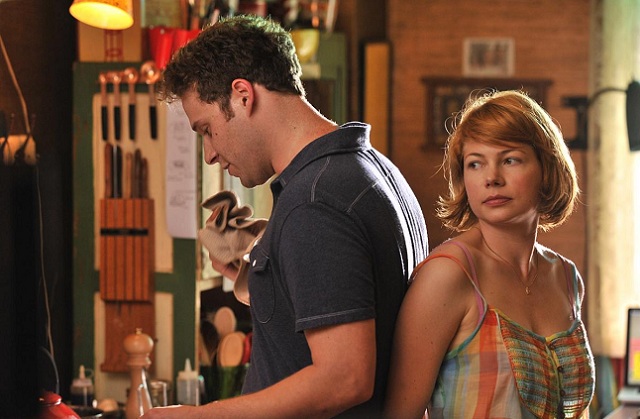 Michelle Williams may be the only actress in Hollywood we all collectively root for to have a fairytale ending in real-life (seriously, who doesn't find this downright adorable?) and a heart wrenching romance on the big screen. As anyone who has seen the devastating Blue Valentine and Brokeback Mountain can attest, the Oscar nominee is at her absolute best when she finds herself in the worst relationship scenarios.
So despite the universal agreement about the awesomeness that is her blossoming relationship with Jason Segel, it's hard for movie fans not to be excited about the prospect of watching Williams struggle with love again in the upcoming drama Take This Waltz. In the latest trailer for the indie, we find Williams' character comes to terms with the prospect of cheating on her sweet husband (Seth Rogen, back in the drama saddle) when she clicks with a handsome neighbor (played by Luke Kirby.) Between the all those beautifully shot scenes from director Sarah Polley of longing glances between the talented cast (including Sarah Silverman, trying her hand at drama as well) and achingly good hipster-in-despair dialogue ("What are you afraid of?" "I'm afraid I'll miss it") it looks like moviegoers will be in for a wonderfully agonizing time.
Watch Williams do what she does best here:
Take This Waltz will debut at the Tribeca Film Festival and will open in theaters on June 29.
[Photo: Magnolia Pictures]
Follow Aly on Twitter @AlySemigran
More:
First footage from Michelle Williams and Seth Rogen's Romance Drama Take This Waltz
Jason Segel Meets Michelle Williams' Daughter Matilda