'Takers' and 'Last Exorcism' switch places!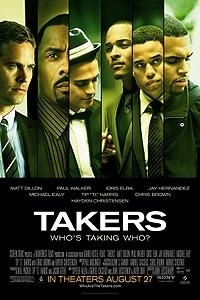 With a photo finish on Sunday and only $300,000 separating the two films on the box office estimates, 'Takers' moves into the top spot for the weekend with an actual figure of $20,512,304 million, only $145,691 ahead of 'The Last Exorcism' and its $20,366,613 million weekend tally.
Looks like Sony's 'Takers' stole the number one spot from the devilish 'The Last Exorcism' after a tight race for first on Sunday's estimated box office chart.  The weekend roller-coaster ride had 'Exorcism' clearly ahead on Friday with $9.4 million to 'Takers' $7.47 million.  However, 'Takers' dropped a mere 4% on Saturday while the devil child took a 25% drop and actually gave 'Takers' the lead for Saturday with nearly an $700k advantage and around $7.74 million for the day.  Sunday got even more complicated with a 45% drop for 'Exorcism' and a 32% drop for 'Takers.'
Bottom line is the the final figures make Sony's 'Takers' the number one film for the weekend with $20.5 million and Lionsgate's 'The Last Exorcism' at number two with $20.36 in one of the tightest races for first place in recent memory.